Deprecated
: Creation of dynamic property AsaAmazon\ProductAdvertisingAPI\v1\com\amazon\paapi5\v1\api\DefaultApi::$headerSelector is deprecated in
/home/thebestgear/public_html/wp-content/plugins/amazonsimpleadmin/lib/AsaAmazon/com/amazon/paapi5/v1/api/DefaultApi.php
on line
61
Deprecated
: Return type of AsaAmazon\ProductAdvertisingAPI\v1\com\amazon\paapi5\v1\GetItemsRequest::offsetExists($offset) should either be compatible with ArrayAccess::offsetExists(mixed $offset): bool, or the #[\ReturnTypeWillChange] attribute should be used to temporarily suppress the notice in
/home/thebestgear/public_html/wp-content/plugins/amazonsimpleadmin/lib/AsaAmazon/com/amazon/paapi5/v1/GetItemsRequest.php
on line
571
Deprecated
: Return type of AsaAmazon\ProductAdvertisingAPI\v1\com\amazon\paapi5\v1\GetItemsRequest::offsetGet($offset) should either be compatible with ArrayAccess::offsetGet(mixed $offset): mixed, or the #[\ReturnTypeWillChange] attribute should be used to temporarily suppress the notice in
/home/thebestgear/public_html/wp-content/plugins/amazonsimpleadmin/lib/AsaAmazon/com/amazon/paapi5/v1/GetItemsRequest.php
on line
583
Deprecated
: Return type of AsaAmazon\ProductAdvertisingAPI\v1\com\amazon\paapi5\v1\GetItemsRequest::offsetSet($offset, $value) should either be compatible with ArrayAccess::offsetSet(mixed $offset, mixed $value): void, or the #[\ReturnTypeWillChange] attribute should be used to temporarily suppress the notice in
/home/thebestgear/public_html/wp-content/plugins/amazonsimpleadmin/lib/AsaAmazon/com/amazon/paapi5/v1/GetItemsRequest.php
on line
596
Deprecated
: Return type of AsaAmazon\ProductAdvertisingAPI\v1\com\amazon\paapi5\v1\GetItemsRequest::offsetUnset($offset) should either be compatible with ArrayAccess::offsetUnset(mixed $offset): void, or the #[\ReturnTypeWillChange] attribute should be used to temporarily suppress the notice in
/home/thebestgear/public_html/wp-content/plugins/amazonsimpleadmin/lib/AsaAmazon/com/amazon/paapi5/v1/GetItemsRequest.php
on line
612
Deprecated
: Creation of dynamic property AsaAmazon\ProductAdvertisingAPI\v1\com\amazon\paapi5\v1\SignHelper::$config is deprecated in
/home/thebestgear/public_html/wp-content/plugins/amazonsimpleadmin/lib/AsaAmazon/com/amazon/paapi5/v1/SignHelper.php
on line
70
Deprecated
: Return type of AsaAmazon\ProductAdvertisingAPI\v1\com\amazon\paapi5\v1\GetItemsResponse::offsetExists($offset) should either be compatible with ArrayAccess::offsetExists(mixed $offset): bool, or the #[\ReturnTypeWillChange] attribute should be used to temporarily suppress the notice in
/home/thebestgear/public_html/wp-content/plugins/amazonsimpleadmin/lib/AsaAmazon/com/amazon/paapi5/v1/GetItemsResponse.php
on line
253
Deprecated
: Return type of AsaAmazon\ProductAdvertisingAPI\v1\com\amazon\paapi5\v1\GetItemsResponse::offsetGet($offset) should either be compatible with ArrayAccess::offsetGet(mixed $offset): mixed, or the #[\ReturnTypeWillChange] attribute should be used to temporarily suppress the notice in
/home/thebestgear/public_html/wp-content/plugins/amazonsimpleadmin/lib/AsaAmazon/com/amazon/paapi5/v1/GetItemsResponse.php
on line
265
Deprecated
: Return type of AsaAmazon\ProductAdvertisingAPI\v1\com\amazon\paapi5\v1\GetItemsResponse::offsetSet($offset, $value) should either be compatible with ArrayAccess::offsetSet(mixed $offset, mixed $value): void, or the #[\ReturnTypeWillChange] attribute should be used to temporarily suppress the notice in
/home/thebestgear/public_html/wp-content/plugins/amazonsimpleadmin/lib/AsaAmazon/com/amazon/paapi5/v1/GetItemsResponse.php
on line
278
Deprecated
: Return type of AsaAmazon\ProductAdvertisingAPI\v1\com\amazon\paapi5\v1\GetItemsResponse::offsetUnset($offset) should either be compatible with ArrayAccess::offsetUnset(mixed $offset): void, or the #[\ReturnTypeWillChange] attribute should be used to temporarily suppress the notice in
/home/thebestgear/public_html/wp-content/plugins/amazonsimpleadmin/lib/AsaAmazon/com/amazon/paapi5/v1/GetItemsResponse.php
on line
294
Deprecated
: Return type of AsaAmazon\ProductAdvertisingAPI\v1\com\amazon\paapi5\v1\ItemsResult::offsetExists($offset) should either be compatible with ArrayAccess::offsetExists(mixed $offset): bool, or the #[\ReturnTypeWillChange] attribute should be used to temporarily suppress the notice in
/home/thebestgear/public_html/wp-content/plugins/amazonsimpleadmin/lib/AsaAmazon/com/amazon/paapi5/v1/ItemsResult.php
on line
223
Deprecated
: Return type of AsaAmazon\ProductAdvertisingAPI\v1\com\amazon\paapi5\v1\ItemsResult::offsetGet($offset) should either be compatible with ArrayAccess::offsetGet(mixed $offset): mixed, or the #[\ReturnTypeWillChange] attribute should be used to temporarily suppress the notice in
/home/thebestgear/public_html/wp-content/plugins/amazonsimpleadmin/lib/AsaAmazon/com/amazon/paapi5/v1/ItemsResult.php
on line
235
Deprecated
: Return type of AsaAmazon\ProductAdvertisingAPI\v1\com\amazon\paapi5\v1\ItemsResult::offsetSet($offset, $value) should either be compatible with ArrayAccess::offsetSet(mixed $offset, mixed $value): void, or the #[\ReturnTypeWillChange] attribute should be used to temporarily suppress the notice in
/home/thebestgear/public_html/wp-content/plugins/amazonsimpleadmin/lib/AsaAmazon/com/amazon/paapi5/v1/ItemsResult.php
on line
248
Deprecated
: Return type of AsaAmazon\ProductAdvertisingAPI\v1\com\amazon\paapi5\v1\ItemsResult::offsetUnset($offset) should either be compatible with ArrayAccess::offsetUnset(mixed $offset): void, or the #[\ReturnTypeWillChange] attribute should be used to temporarily suppress the notice in
/home/thebestgear/public_html/wp-content/plugins/amazonsimpleadmin/lib/AsaAmazon/com/amazon/paapi5/v1/ItemsResult.php
on line
264
Deprecated
: Return type of AsaAmazon\ProductAdvertisingAPI\v1\com\amazon\paapi5\v1\Item::offsetExists($offset) should either be compatible with ArrayAccess::offsetExists(mixed $offset): bool, or the #[\ReturnTypeWillChange] attribute should be used to temporarily suppress the notice in
/home/thebestgear/public_html/wp-content/plugins/amazonsimpleadmin/lib/AsaAmazon/com/amazon/paapi5/v1/Item.php
on line
493
Deprecated
: Return type of AsaAmazon\ProductAdvertisingAPI\v1\com\amazon\paapi5\v1\Item::offsetGet($offset) should either be compatible with ArrayAccess::offsetGet(mixed $offset): mixed, or the #[\ReturnTypeWillChange] attribute should be used to temporarily suppress the notice in
/home/thebestgear/public_html/wp-content/plugins/amazonsimpleadmin/lib/AsaAmazon/com/amazon/paapi5/v1/Item.php
on line
505
Deprecated
: Return type of AsaAmazon\ProductAdvertisingAPI\v1\com\amazon\paapi5\v1\Item::offsetSet($offset, $value) should either be compatible with ArrayAccess::offsetSet(mixed $offset, mixed $value): void, or the #[\ReturnTypeWillChange] attribute should be used to temporarily suppress the notice in
/home/thebestgear/public_html/wp-content/plugins/amazonsimpleadmin/lib/AsaAmazon/com/amazon/paapi5/v1/Item.php
on line
518
Deprecated
: Return type of AsaAmazon\ProductAdvertisingAPI\v1\com\amazon\paapi5\v1\Item::offsetUnset($offset) should either be compatible with ArrayAccess::offsetUnset(mixed $offset): void, or the #[\ReturnTypeWillChange] attribute should be used to temporarily suppress the notice in
/home/thebestgear/public_html/wp-content/plugins/amazonsimpleadmin/lib/AsaAmazon/com/amazon/paapi5/v1/Item.php
on line
534
Deprecated
: Return type of AsaAmazon\ProductAdvertisingAPI\v1\com\amazon\paapi5\v1\BrowseNodeInfo::offsetExists($offset) should either be compatible with ArrayAccess::offsetExists(mixed $offset): bool, or the #[\ReturnTypeWillChange] attribute should be used to temporarily suppress the notice in
/home/thebestgear/public_html/wp-content/plugins/amazonsimpleadmin/lib/AsaAmazon/com/amazon/paapi5/v1/BrowseNodeInfo.php
on line
253
Deprecated
: Return type of AsaAmazon\ProductAdvertisingAPI\v1\com\amazon\paapi5\v1\BrowseNodeInfo::offsetGet($offset) should either be compatible with ArrayAccess::offsetGet(mixed $offset): mixed, or the #[\ReturnTypeWillChange] attribute should be used to temporarily suppress the notice in
/home/thebestgear/public_html/wp-content/plugins/amazonsimpleadmin/lib/AsaAmazon/com/amazon/paapi5/v1/BrowseNodeInfo.php
on line
265
Deprecated
: Return type of AsaAmazon\ProductAdvertisingAPI\v1\com\amazon\paapi5\v1\BrowseNodeInfo::offsetSet($offset, $value) should either be compatible with ArrayAccess::offsetSet(mixed $offset, mixed $value): void, or the #[\ReturnTypeWillChange] attribute should be used to temporarily suppress the notice in
/home/thebestgear/public_html/wp-content/plugins/amazonsimpleadmin/lib/AsaAmazon/com/amazon/paapi5/v1/BrowseNodeInfo.php
on line
278
Deprecated
: Return type of AsaAmazon\ProductAdvertisingAPI\v1\com\amazon\paapi5\v1\BrowseNodeInfo::offsetUnset($offset) should either be compatible with ArrayAccess::offsetUnset(mixed $offset): void, or the #[\ReturnTypeWillChange] attribute should be used to temporarily suppress the notice in
/home/thebestgear/public_html/wp-content/plugins/amazonsimpleadmin/lib/AsaAmazon/com/amazon/paapi5/v1/BrowseNodeInfo.php
on line
294
Deprecated
: Return type of AsaAmazon\ProductAdvertisingAPI\v1\com\amazon\paapi5\v1\BrowseNode::offsetExists($offset) should either be compatible with ArrayAccess::offsetExists(mixed $offset): bool, or the #[\ReturnTypeWillChange] attribute should be used to temporarily suppress the notice in
/home/thebestgear/public_html/wp-content/plugins/amazonsimpleadmin/lib/AsaAmazon/com/amazon/paapi5/v1/BrowseNode.php
on line
403
Deprecated
: Return type of AsaAmazon\ProductAdvertisingAPI\v1\com\amazon\paapi5\v1\BrowseNode::offsetGet($offset) should either be compatible with ArrayAccess::offsetGet(mixed $offset): mixed, or the #[\ReturnTypeWillChange] attribute should be used to temporarily suppress the notice in
/home/thebestgear/public_html/wp-content/plugins/amazonsimpleadmin/lib/AsaAmazon/com/amazon/paapi5/v1/BrowseNode.php
on line
415
Deprecated
: Return type of AsaAmazon\ProductAdvertisingAPI\v1\com\amazon\paapi5\v1\BrowseNode::offsetSet($offset, $value) should either be compatible with ArrayAccess::offsetSet(mixed $offset, mixed $value): void, or the #[\ReturnTypeWillChange] attribute should be used to temporarily suppress the notice in
/home/thebestgear/public_html/wp-content/plugins/amazonsimpleadmin/lib/AsaAmazon/com/amazon/paapi5/v1/BrowseNode.php
on line
428
Deprecated
: Return type of AsaAmazon\ProductAdvertisingAPI\v1\com\amazon\paapi5\v1\BrowseNode::offsetUnset($offset) should either be compatible with ArrayAccess::offsetUnset(mixed $offset): void, or the #[\ReturnTypeWillChange] attribute should be used to temporarily suppress the notice in
/home/thebestgear/public_html/wp-content/plugins/amazonsimpleadmin/lib/AsaAmazon/com/amazon/paapi5/v1/BrowseNode.php
on line
444
Deprecated
: Return type of AsaAmazon\ProductAdvertisingAPI\v1\com\amazon\paapi5\v1\Images::offsetExists($offset) should either be compatible with ArrayAccess::offsetExists(mixed $offset): bool, or the #[\ReturnTypeWillChange] attribute should be used to temporarily suppress the notice in
/home/thebestgear/public_html/wp-content/plugins/amazonsimpleadmin/lib/AsaAmazon/com/amazon/paapi5/v1/Images.php
on line
253
Deprecated
: Return type of AsaAmazon\ProductAdvertisingAPI\v1\com\amazon\paapi5\v1\Images::offsetGet($offset) should either be compatible with ArrayAccess::offsetGet(mixed $offset): mixed, or the #[\ReturnTypeWillChange] attribute should be used to temporarily suppress the notice in
/home/thebestgear/public_html/wp-content/plugins/amazonsimpleadmin/lib/AsaAmazon/com/amazon/paapi5/v1/Images.php
on line
265
Deprecated
: Return type of AsaAmazon\ProductAdvertisingAPI\v1\com\amazon\paapi5\v1\Images::offsetSet($offset, $value) should either be compatible with ArrayAccess::offsetSet(mixed $offset, mixed $value): void, or the #[\ReturnTypeWillChange] attribute should be used to temporarily suppress the notice in
/home/thebestgear/public_html/wp-content/plugins/amazonsimpleadmin/lib/AsaAmazon/com/amazon/paapi5/v1/Images.php
on line
278
Deprecated
: Return type of AsaAmazon\ProductAdvertisingAPI\v1\com\amazon\paapi5\v1\Images::offsetUnset($offset) should either be compatible with ArrayAccess::offsetUnset(mixed $offset): void, or the #[\ReturnTypeWillChange] attribute should be used to temporarily suppress the notice in
/home/thebestgear/public_html/wp-content/plugins/amazonsimpleadmin/lib/AsaAmazon/com/amazon/paapi5/v1/Images.php
on line
294
Deprecated
: Return type of AsaAmazon\ProductAdvertisingAPI\v1\com\amazon\paapi5\v1\ImageType::offsetExists($offset) should either be compatible with ArrayAccess::offsetExists(mixed $offset): bool, or the #[\ReturnTypeWillChange] attribute should be used to temporarily suppress the notice in
/home/thebestgear/public_html/wp-content/plugins/amazonsimpleadmin/lib/AsaAmazon/com/amazon/paapi5/v1/ImageType.php
on line
283
Deprecated
: Return type of AsaAmazon\ProductAdvertisingAPI\v1\com\amazon\paapi5\v1\ImageType::offsetGet($offset) should either be compatible with ArrayAccess::offsetGet(mixed $offset): mixed, or the #[\ReturnTypeWillChange] attribute should be used to temporarily suppress the notice in
/home/thebestgear/public_html/wp-content/plugins/amazonsimpleadmin/lib/AsaAmazon/com/amazon/paapi5/v1/ImageType.php
on line
295
Deprecated
: Return type of AsaAmazon\ProductAdvertisingAPI\v1\com\amazon\paapi5\v1\ImageType::offsetSet($offset, $value) should either be compatible with ArrayAccess::offsetSet(mixed $offset, mixed $value): void, or the #[\ReturnTypeWillChange] attribute should be used to temporarily suppress the notice in
/home/thebestgear/public_html/wp-content/plugins/amazonsimpleadmin/lib/AsaAmazon/com/amazon/paapi5/v1/ImageType.php
on line
308
Deprecated
: Return type of AsaAmazon\ProductAdvertisingAPI\v1\com\amazon\paapi5\v1\ImageType::offsetUnset($offset) should either be compatible with ArrayAccess::offsetUnset(mixed $offset): void, or the #[\ReturnTypeWillChange] attribute should be used to temporarily suppress the notice in
/home/thebestgear/public_html/wp-content/plugins/amazonsimpleadmin/lib/AsaAmazon/com/amazon/paapi5/v1/ImageType.php
on line
324
Deprecated
: Return type of AsaAmazon\ProductAdvertisingAPI\v1\com\amazon\paapi5\v1\ImageSize::offsetExists($offset) should either be compatible with ArrayAccess::offsetExists(mixed $offset): bool, or the #[\ReturnTypeWillChange] attribute should be used to temporarily suppress the notice in
/home/thebestgear/public_html/wp-content/plugins/amazonsimpleadmin/lib/AsaAmazon/com/amazon/paapi5/v1/ImageSize.php
on line
283
Deprecated
: Return type of AsaAmazon\ProductAdvertisingAPI\v1\com\amazon\paapi5\v1\ImageSize::offsetGet($offset) should either be compatible with ArrayAccess::offsetGet(mixed $offset): mixed, or the #[\ReturnTypeWillChange] attribute should be used to temporarily suppress the notice in
/home/thebestgear/public_html/wp-content/plugins/amazonsimpleadmin/lib/AsaAmazon/com/amazon/paapi5/v1/ImageSize.php
on line
295
Deprecated
: Return type of AsaAmazon\ProductAdvertisingAPI\v1\com\amazon\paapi5\v1\ImageSize::offsetSet($offset, $value) should either be compatible with ArrayAccess::offsetSet(mixed $offset, mixed $value): void, or the #[\ReturnTypeWillChange] attribute should be used to temporarily suppress the notice in
/home/thebestgear/public_html/wp-content/plugins/amazonsimpleadmin/lib/AsaAmazon/com/amazon/paapi5/v1/ImageSize.php
on line
308
Deprecated
: Return type of AsaAmazon\ProductAdvertisingAPI\v1\com\amazon\paapi5\v1\ImageSize::offsetUnset($offset) should either be compatible with ArrayAccess::offsetUnset(mixed $offset): void, or the #[\ReturnTypeWillChange] attribute should be used to temporarily suppress the notice in
/home/thebestgear/public_html/wp-content/plugins/amazonsimpleadmin/lib/AsaAmazon/com/amazon/paapi5/v1/ImageSize.php
on line
324
Deprecated
: Return type of AsaAmazon\ProductAdvertisingAPI\v1\com\amazon\paapi5\v1\ItemInfo::offsetExists($offset) should either be compatible with ArrayAccess::offsetExists(mixed $offset): bool, or the #[\ReturnTypeWillChange] attribute should be used to temporarily suppress the notice in
/home/thebestgear/public_html/wp-content/plugins/amazonsimpleadmin/lib/AsaAmazon/com/amazon/paapi5/v1/ItemInfo.php
on line
523
Deprecated
: Return type of AsaAmazon\ProductAdvertisingAPI\v1\com\amazon\paapi5\v1\ItemInfo::offsetGet($offset) should either be compatible with ArrayAccess::offsetGet(mixed $offset): mixed, or the #[\ReturnTypeWillChange] attribute should be used to temporarily suppress the notice in
/home/thebestgear/public_html/wp-content/plugins/amazonsimpleadmin/lib/AsaAmazon/com/amazon/paapi5/v1/ItemInfo.php
on line
535
Deprecated
: Return type of AsaAmazon\ProductAdvertisingAPI\v1\com\amazon\paapi5\v1\ItemInfo::offsetSet($offset, $value) should either be compatible with ArrayAccess::offsetSet(mixed $offset, mixed $value): void, or the #[\ReturnTypeWillChange] attribute should be used to temporarily suppress the notice in
/home/thebestgear/public_html/wp-content/plugins/amazonsimpleadmin/lib/AsaAmazon/com/amazon/paapi5/v1/ItemInfo.php
on line
548
Deprecated
: Return type of AsaAmazon\ProductAdvertisingAPI\v1\com\amazon\paapi5\v1\ItemInfo::offsetUnset($offset) should either be compatible with ArrayAccess::offsetUnset(mixed $offset): void, or the #[\ReturnTypeWillChange] attribute should be used to temporarily suppress the notice in
/home/thebestgear/public_html/wp-content/plugins/amazonsimpleadmin/lib/AsaAmazon/com/amazon/paapi5/v1/ItemInfo.php
on line
564
Deprecated
: Return type of AsaAmazon\ProductAdvertisingAPI\v1\com\amazon\paapi5\v1\ByLineInfo::offsetExists($offset) should either be compatible with ArrayAccess::offsetExists(mixed $offset): bool, or the #[\ReturnTypeWillChange] attribute should be used to temporarily suppress the notice in
/home/thebestgear/public_html/wp-content/plugins/amazonsimpleadmin/lib/AsaAmazon/com/amazon/paapi5/v1/ByLineInfo.php
on line
283
Deprecated
: Return type of AsaAmazon\ProductAdvertisingAPI\v1\com\amazon\paapi5\v1\ByLineInfo::offsetGet($offset) should either be compatible with ArrayAccess::offsetGet(mixed $offset): mixed, or the #[\ReturnTypeWillChange] attribute should be used to temporarily suppress the notice in
/home/thebestgear/public_html/wp-content/plugins/amazonsimpleadmin/lib/AsaAmazon/com/amazon/paapi5/v1/ByLineInfo.php
on line
295
Deprecated
: Return type of AsaAmazon\ProductAdvertisingAPI\v1\com\amazon\paapi5\v1\ByLineInfo::offsetSet($offset, $value) should either be compatible with ArrayAccess::offsetSet(mixed $offset, mixed $value): void, or the #[\ReturnTypeWillChange] attribute should be used to temporarily suppress the notice in
/home/thebestgear/public_html/wp-content/plugins/amazonsimpleadmin/lib/AsaAmazon/com/amazon/paapi5/v1/ByLineInfo.php
on line
308
Deprecated
: Return type of AsaAmazon\ProductAdvertisingAPI\v1\com\amazon\paapi5\v1\ByLineInfo::offsetUnset($offset) should either be compatible with ArrayAccess::offsetUnset(mixed $offset): void, or the #[\ReturnTypeWillChange] attribute should be used to temporarily suppress the notice in
/home/thebestgear/public_html/wp-content/plugins/amazonsimpleadmin/lib/AsaAmazon/com/amazon/paapi5/v1/ByLineInfo.php
on line
324
Deprecated
: Return type of AsaAmazon\ProductAdvertisingAPI\v1\com\amazon\paapi5\v1\SingleStringValuedAttribute::offsetExists($offset) should either be compatible with ArrayAccess::offsetExists(mixed $offset): bool, or the #[\ReturnTypeWillChange] attribute should be used to temporarily suppress the notice in
/home/thebestgear/public_html/wp-content/plugins/amazonsimpleadmin/lib/AsaAmazon/com/amazon/paapi5/v1/SingleStringValuedAttribute.php
on line
283
Deprecated
: Return type of AsaAmazon\ProductAdvertisingAPI\v1\com\amazon\paapi5\v1\SingleStringValuedAttribute::offsetGet($offset) should either be compatible with ArrayAccess::offsetGet(mixed $offset): mixed, or the #[\ReturnTypeWillChange] attribute should be used to temporarily suppress the notice in
/home/thebestgear/public_html/wp-content/plugins/amazonsimpleadmin/lib/AsaAmazon/com/amazon/paapi5/v1/SingleStringValuedAttribute.php
on line
295
Deprecated
: Return type of AsaAmazon\ProductAdvertisingAPI\v1\com\amazon\paapi5\v1\SingleStringValuedAttribute::offsetSet($offset, $value) should either be compatible with ArrayAccess::offsetSet(mixed $offset, mixed $value): void, or the #[\ReturnTypeWillChange] attribute should be used to temporarily suppress the notice in
/home/thebestgear/public_html/wp-content/plugins/amazonsimpleadmin/lib/AsaAmazon/com/amazon/paapi5/v1/SingleStringValuedAttribute.php
on line
308
Deprecated
: Return type of AsaAmazon\ProductAdvertisingAPI\v1\com\amazon\paapi5\v1\SingleStringValuedAttribute::offsetUnset($offset) should either be compatible with ArrayAccess::offsetUnset(mixed $offset): void, or the #[\ReturnTypeWillChange] attribute should be used to temporarily suppress the notice in
/home/thebestgear/public_html/wp-content/plugins/amazonsimpleadmin/lib/AsaAmazon/com/amazon/paapi5/v1/SingleStringValuedAttribute.php
on line
324
Deprecated
: Return type of AsaAmazon\ProductAdvertisingAPI\v1\com\amazon\paapi5\v1\Classifications::offsetExists($offset) should either be compatible with ArrayAccess::offsetExists(mixed $offset): bool, or the #[\ReturnTypeWillChange] attribute should be used to temporarily suppress the notice in
/home/thebestgear/public_html/wp-content/plugins/amazonsimpleadmin/lib/AsaAmazon/com/amazon/paapi5/v1/Classifications.php
on line
253
Deprecated
: Return type of AsaAmazon\ProductAdvertisingAPI\v1\com\amazon\paapi5\v1\Classifications::offsetGet($offset) should either be compatible with ArrayAccess::offsetGet(mixed $offset): mixed, or the #[\ReturnTypeWillChange] attribute should be used to temporarily suppress the notice in
/home/thebestgear/public_html/wp-content/plugins/amazonsimpleadmin/lib/AsaAmazon/com/amazon/paapi5/v1/Classifications.php
on line
265
Deprecated
: Return type of AsaAmazon\ProductAdvertisingAPI\v1\com\amazon\paapi5\v1\Classifications::offsetSet($offset, $value) should either be compatible with ArrayAccess::offsetSet(mixed $offset, mixed $value): void, or the #[\ReturnTypeWillChange] attribute should be used to temporarily suppress the notice in
/home/thebestgear/public_html/wp-content/plugins/amazonsimpleadmin/lib/AsaAmazon/com/amazon/paapi5/v1/Classifications.php
on line
278
Deprecated
: Return type of AsaAmazon\ProductAdvertisingAPI\v1\com\amazon\paapi5\v1\Classifications::offsetUnset($offset) should either be compatible with ArrayAccess::offsetUnset(mixed $offset): void, or the #[\ReturnTypeWillChange] attribute should be used to temporarily suppress the notice in
/home/thebestgear/public_html/wp-content/plugins/amazonsimpleadmin/lib/AsaAmazon/com/amazon/paapi5/v1/Classifications.php
on line
294
Deprecated
: Return type of AsaAmazon\ProductAdvertisingAPI\v1\com\amazon\paapi5\v1\ExternalIds::offsetExists($offset) should either be compatible with ArrayAccess::offsetExists(mixed $offset): bool, or the #[\ReturnTypeWillChange] attribute should be used to temporarily suppress the notice in
/home/thebestgear/public_html/wp-content/plugins/amazonsimpleadmin/lib/AsaAmazon/com/amazon/paapi5/v1/ExternalIds.php
on line
283
Deprecated
: Return type of AsaAmazon\ProductAdvertisingAPI\v1\com\amazon\paapi5\v1\ExternalIds::offsetGet($offset) should either be compatible with ArrayAccess::offsetGet(mixed $offset): mixed, or the #[\ReturnTypeWillChange] attribute should be used to temporarily suppress the notice in
/home/thebestgear/public_html/wp-content/plugins/amazonsimpleadmin/lib/AsaAmazon/com/amazon/paapi5/v1/ExternalIds.php
on line
295
Deprecated
: Return type of AsaAmazon\ProductAdvertisingAPI\v1\com\amazon\paapi5\v1\ExternalIds::offsetSet($offset, $value) should either be compatible with ArrayAccess::offsetSet(mixed $offset, mixed $value): void, or the #[\ReturnTypeWillChange] attribute should be used to temporarily suppress the notice in
/home/thebestgear/public_html/wp-content/plugins/amazonsimpleadmin/lib/AsaAmazon/com/amazon/paapi5/v1/ExternalIds.php
on line
308
Deprecated
: Return type of AsaAmazon\ProductAdvertisingAPI\v1\com\amazon\paapi5\v1\ExternalIds::offsetUnset($offset) should either be compatible with ArrayAccess::offsetUnset(mixed $offset): void, or the #[\ReturnTypeWillChange] attribute should be used to temporarily suppress the notice in
/home/thebestgear/public_html/wp-content/plugins/amazonsimpleadmin/lib/AsaAmazon/com/amazon/paapi5/v1/ExternalIds.php
on line
324
Deprecated
: Return type of AsaAmazon\ProductAdvertisingAPI\v1\com\amazon\paapi5\v1\MultiValuedAttribute::offsetExists($offset) should either be compatible with ArrayAccess::offsetExists(mixed $offset): bool, or the #[\ReturnTypeWillChange] attribute should be used to temporarily suppress the notice in
/home/thebestgear/public_html/wp-content/plugins/amazonsimpleadmin/lib/AsaAmazon/com/amazon/paapi5/v1/MultiValuedAttribute.php
on line
283
Deprecated
: Return type of AsaAmazon\ProductAdvertisingAPI\v1\com\amazon\paapi5\v1\MultiValuedAttribute::offsetGet($offset) should either be compatible with ArrayAccess::offsetGet(mixed $offset): mixed, or the #[\ReturnTypeWillChange] attribute should be used to temporarily suppress the notice in
/home/thebestgear/public_html/wp-content/plugins/amazonsimpleadmin/lib/AsaAmazon/com/amazon/paapi5/v1/MultiValuedAttribute.php
on line
295
Deprecated
: Return type of AsaAmazon\ProductAdvertisingAPI\v1\com\amazon\paapi5\v1\MultiValuedAttribute::offsetSet($offset, $value) should either be compatible with ArrayAccess::offsetSet(mixed $offset, mixed $value): void, or the #[\ReturnTypeWillChange] attribute should be used to temporarily suppress the notice in
/home/thebestgear/public_html/wp-content/plugins/amazonsimpleadmin/lib/AsaAmazon/com/amazon/paapi5/v1/MultiValuedAttribute.php
on line
308
Deprecated
: Return type of AsaAmazon\ProductAdvertisingAPI\v1\com\amazon\paapi5\v1\MultiValuedAttribute::offsetUnset($offset) should either be compatible with ArrayAccess::offsetUnset(mixed $offset): void, or the #[\ReturnTypeWillChange] attribute should be used to temporarily suppress the notice in
/home/thebestgear/public_html/wp-content/plugins/amazonsimpleadmin/lib/AsaAmazon/com/amazon/paapi5/v1/MultiValuedAttribute.php
on line
324
Deprecated
: Return type of AsaAmazon\ProductAdvertisingAPI\v1\com\amazon\paapi5\v1\ManufactureInfo::offsetExists($offset) should either be compatible with ArrayAccess::offsetExists(mixed $offset): bool, or the #[\ReturnTypeWillChange] attribute should be used to temporarily suppress the notice in
/home/thebestgear/public_html/wp-content/plugins/amazonsimpleadmin/lib/AsaAmazon/com/amazon/paapi5/v1/ManufactureInfo.php
on line
283
Deprecated
: Return type of AsaAmazon\ProductAdvertisingAPI\v1\com\amazon\paapi5\v1\ManufactureInfo::offsetGet($offset) should either be compatible with ArrayAccess::offsetGet(mixed $offset): mixed, or the #[\ReturnTypeWillChange] attribute should be used to temporarily suppress the notice in
/home/thebestgear/public_html/wp-content/plugins/amazonsimpleadmin/lib/AsaAmazon/com/amazon/paapi5/v1/ManufactureInfo.php
on line
295
Deprecated
: Return type of AsaAmazon\ProductAdvertisingAPI\v1\com\amazon\paapi5\v1\ManufactureInfo::offsetSet($offset, $value) should either be compatible with ArrayAccess::offsetSet(mixed $offset, mixed $value): void, or the #[\ReturnTypeWillChange] attribute should be used to temporarily suppress the notice in
/home/thebestgear/public_html/wp-content/plugins/amazonsimpleadmin/lib/AsaAmazon/com/amazon/paapi5/v1/ManufactureInfo.php
on line
308
Deprecated
: Return type of AsaAmazon\ProductAdvertisingAPI\v1\com\amazon\paapi5\v1\ManufactureInfo::offsetUnset($offset) should either be compatible with ArrayAccess::offsetUnset(mixed $offset): void, or the #[\ReturnTypeWillChange] attribute should be used to temporarily suppress the notice in
/home/thebestgear/public_html/wp-content/plugins/amazonsimpleadmin/lib/AsaAmazon/com/amazon/paapi5/v1/ManufactureInfo.php
on line
324
Deprecated
: Return type of AsaAmazon\ProductAdvertisingAPI\v1\com\amazon\paapi5\v1\ProductInfo::offsetExists($offset) should either be compatible with ArrayAccess::offsetExists(mixed $offset): bool, or the #[\ReturnTypeWillChange] attribute should be used to temporarily suppress the notice in
/home/thebestgear/public_html/wp-content/plugins/amazonsimpleadmin/lib/AsaAmazon/com/amazon/paapi5/v1/ProductInfo.php
on line
373
Deprecated
: Return type of AsaAmazon\ProductAdvertisingAPI\v1\com\amazon\paapi5\v1\ProductInfo::offsetGet($offset) should either be compatible with ArrayAccess::offsetGet(mixed $offset): mixed, or the #[\ReturnTypeWillChange] attribute should be used to temporarily suppress the notice in
/home/thebestgear/public_html/wp-content/plugins/amazonsimpleadmin/lib/AsaAmazon/com/amazon/paapi5/v1/ProductInfo.php
on line
385
Deprecated
: Return type of AsaAmazon\ProductAdvertisingAPI\v1\com\amazon\paapi5\v1\ProductInfo::offsetSet($offset, $value) should either be compatible with ArrayAccess::offsetSet(mixed $offset, mixed $value): void, or the #[\ReturnTypeWillChange] attribute should be used to temporarily suppress the notice in
/home/thebestgear/public_html/wp-content/plugins/amazonsimpleadmin/lib/AsaAmazon/com/amazon/paapi5/v1/ProductInfo.php
on line
398
Deprecated
: Return type of AsaAmazon\ProductAdvertisingAPI\v1\com\amazon\paapi5\v1\ProductInfo::offsetUnset($offset) should either be compatible with ArrayAccess::offsetUnset(mixed $offset): void, or the #[\ReturnTypeWillChange] attribute should be used to temporarily suppress the notice in
/home/thebestgear/public_html/wp-content/plugins/amazonsimpleadmin/lib/AsaAmazon/com/amazon/paapi5/v1/ProductInfo.php
on line
414
Deprecated
: Return type of AsaAmazon\ProductAdvertisingAPI\v1\com\amazon\paapi5\v1\DimensionBasedAttribute::offsetExists($offset) should either be compatible with ArrayAccess::offsetExists(mixed $offset): bool, or the #[\ReturnTypeWillChange] attribute should be used to temporarily suppress the notice in
/home/thebestgear/public_html/wp-content/plugins/amazonsimpleadmin/lib/AsaAmazon/com/amazon/paapi5/v1/DimensionBasedAttribute.php
on line
313
Deprecated
: Return type of AsaAmazon\ProductAdvertisingAPI\v1\com\amazon\paapi5\v1\DimensionBasedAttribute::offsetGet($offset) should either be compatible with ArrayAccess::offsetGet(mixed $offset): mixed, or the #[\ReturnTypeWillChange] attribute should be used to temporarily suppress the notice in
/home/thebestgear/public_html/wp-content/plugins/amazonsimpleadmin/lib/AsaAmazon/com/amazon/paapi5/v1/DimensionBasedAttribute.php
on line
325
Deprecated
: Return type of AsaAmazon\ProductAdvertisingAPI\v1\com\amazon\paapi5\v1\DimensionBasedAttribute::offsetSet($offset, $value) should either be compatible with ArrayAccess::offsetSet(mixed $offset, mixed $value): void, or the #[\ReturnTypeWillChange] attribute should be used to temporarily suppress the notice in
/home/thebestgear/public_html/wp-content/plugins/amazonsimpleadmin/lib/AsaAmazon/com/amazon/paapi5/v1/DimensionBasedAttribute.php
on line
338
Deprecated
: Return type of AsaAmazon\ProductAdvertisingAPI\v1\com\amazon\paapi5\v1\DimensionBasedAttribute::offsetUnset($offset) should either be compatible with ArrayAccess::offsetUnset(mixed $offset): void, or the #[\ReturnTypeWillChange] attribute should be used to temporarily suppress the notice in
/home/thebestgear/public_html/wp-content/plugins/amazonsimpleadmin/lib/AsaAmazon/com/amazon/paapi5/v1/DimensionBasedAttribute.php
on line
354
Deprecated
: Return type of AsaAmazon\ProductAdvertisingAPI\v1\com\amazon\paapi5\v1\UnitBasedAttribute::offsetExists($offset) should either be compatible with ArrayAccess::offsetExists(mixed $offset): bool, or the #[\ReturnTypeWillChange] attribute should be used to temporarily suppress the notice in
/home/thebestgear/public_html/wp-content/plugins/amazonsimpleadmin/lib/AsaAmazon/com/amazon/paapi5/v1/UnitBasedAttribute.php
on line
313
Deprecated
: Return type of AsaAmazon\ProductAdvertisingAPI\v1\com\amazon\paapi5\v1\UnitBasedAttribute::offsetGet($offset) should either be compatible with ArrayAccess::offsetGet(mixed $offset): mixed, or the #[\ReturnTypeWillChange] attribute should be used to temporarily suppress the notice in
/home/thebestgear/public_html/wp-content/plugins/amazonsimpleadmin/lib/AsaAmazon/com/amazon/paapi5/v1/UnitBasedAttribute.php
on line
325
Deprecated
: Return type of AsaAmazon\ProductAdvertisingAPI\v1\com\amazon\paapi5\v1\UnitBasedAttribute::offsetSet($offset, $value) should either be compatible with ArrayAccess::offsetSet(mixed $offset, mixed $value): void, or the #[\ReturnTypeWillChange] attribute should be used to temporarily suppress the notice in
/home/thebestgear/public_html/wp-content/plugins/amazonsimpleadmin/lib/AsaAmazon/com/amazon/paapi5/v1/UnitBasedAttribute.php
on line
338
Deprecated
: Return type of AsaAmazon\ProductAdvertisingAPI\v1\com\amazon\paapi5\v1\UnitBasedAttribute::offsetUnset($offset) should either be compatible with ArrayAccess::offsetUnset(mixed $offset): void, or the #[\ReturnTypeWillChange] attribute should be used to temporarily suppress the notice in
/home/thebestgear/public_html/wp-content/plugins/amazonsimpleadmin/lib/AsaAmazon/com/amazon/paapi5/v1/UnitBasedAttribute.php
on line
354
Deprecated
: Creation of dynamic property AsaAmazon\ProductAdvertisingAPI\v1\com\amazon\paapi5\v1\api\DefaultApi::$headerSelector is deprecated in
/home/thebestgear/public_html/wp-content/plugins/amazonsimpleadmin/lib/AsaAmazon/com/amazon/paapi5/v1/api/DefaultApi.php
on line
61
Deprecated
: strstr(): Passing null to parameter #1 ($haystack) of type string is deprecated in
/home/thebestgear/public_html/wp-content/plugins/amazonsimpleadmin/AsaCustomerReviews.php
on line
117
TheBestGear.org is reader supported and uses affiliate links.  Please read our affiliate disclaimer.
The Nitecore LA10 CRI is a compact, AA lantern/flashlight that's largely intended for camping or illuminating an area with a 360 degree diffusion pattern.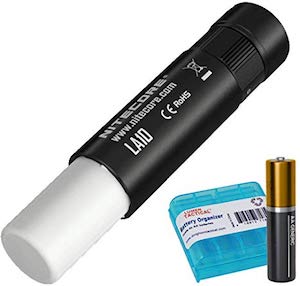 Specs
LED:  Nichia 219b (high CRI, > 90)
Weight: 42.7g (1.5oz)
Length: 78.5mm (3.1″)
Batteries supported: AA alkaline, NiMH, lithium.  Does not support 14500 batteries.
At the size of roughly a small lipstick applicator, the Nitecore LA10 is a nice little compact light that will light a room or tent without the need for a separate diffuser.  Weighing in at around 1.5oz (without battery), it's easy to toss in a backpack and not worry about the extra weight.
Operation
The diffuser extends by twisting the body of the device, and extends out a couple of inches depending on your preference.  The light contains 3 different brightness modes:
9 lumens / 23 hrs
30 lumens / 6 hrs
85 lumens / 1.5 hrs
To toggle the brightness, you do a small twist of the tail cap, where it will cycle between the three modes.  Twist to change modes isn't my favorite way to operate a light, but given the compactness of this model it is acceptable.
Pros
One of the very few small camping lights that use a good LED and AA battery
High CRI which is very hard to find
Lightweight
Magnetic tail cap would be good for automotive repair use, or a lanyard to hang
IPX6 waterproof
Could be improved
Would have preferred a lower temperature light, particularly for night use.  The temperature isn't listed but appears to be around 5000k or cooler
Would also like a lower lumen mode for camping use:  9 lumens is still quite bright at night.  Would like to have seen a 1-3 lumen mode.
Different interface for changing modes
You can buy the Nitecore LA10 CRI on Gearbest or Amazon.
Also note that there is a non-CRI version for about $5 less, or a larger 18650 version called the Nitecore LA12