TheBestGear.org is reader supported and uses affiliate links.  Please read our affiliate disclaimer.
The Thorfire TK01 is a new, ultra tiny AAA keychain flashlight that has a secret weapon compared to other lights:  the Nichia 219C LED!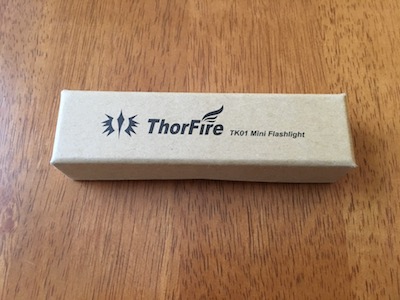 The Thorfire TK01 packaging
There is no lack of budget keychain flashlights on the market, but use very old cheap LED emitters, or are built with cheap plastic. The Thorfire TK01, at a very modest price makes a light worth looking at.

Specs
LED: Nichia 219c with high CRI (Color Rendering Index)
85 lumens
Weight: 22g
Length: 2.75in
Aircraft grade aluminum alloy with HAIII military hard anodized finish
Waterproof IP65 rating
User interface
Like most keychain lights, in order to keep the size small, the method to turn the light on and off is by simply twisting the head of the light.  The AAA battery slides into the the rear of the light, and the rear tail can be loosened for lock-out.
Beam profile
The Nichia 219c is wonderful to look at.  Colors are accurately represented, and there is no blue or red shift to the light.  The hotspot is moderate, and very usable indoors.
Runtime isn't listed for this flashlight, but one concern is that with a rather high 85 lumen mode, an AAA battery won't be expected to last very long. Of course, if you plan to use a flashlight for extensive periods of time you probably should be looking at 18650 or AA lights instead.
Thorfire TK01 advantages:
Nichia 219c puts this light a step above many others
Lightweight.  I don't like anything heavy in my pockets, so AA or 18650 lights are absolutely out of the question. At 22g you'll barely notice this light is on you.
Could be improved:
A low mode, or lower lumens overall could provide more runtime
Keychain style only, no clip if you want to use it as a hat light
Summary
There are many keychain lights on the market, but sometimes it's worth splurging a few extra dollars on something nice. For a modest price this is a competitive light overall given the Nichia emitter.
Buy the Thorfire TK01 on Amazon now
The competition:
Astrolux A01: Nichia 219b, firefly, <10lumen, 100 lumens, strobe, 15g
Lumintop Tool AAA:  XP-G2, 5/32/110 lumens, 15g