TheBestGear.org is reader supported and uses affiliate links.  Please read our affiliate disclaimer.
The Thorfire TK05 is a new, compact AA/14500 powered flashlight on the market. This is a very competitive category, but Thorfire has delivered a good value package.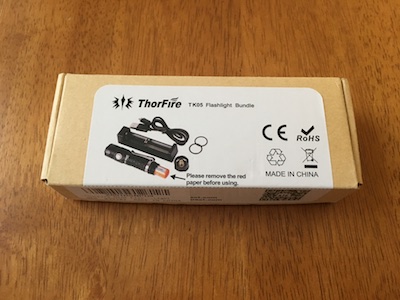 Thorfire TKO5 package
The Thorfire TK05 with 14500 battery and charger
While you can buy the flashlight body by itself, I elected to review the full kit with 14500 battery and charger because I felt at this price point it would make for a great gift set. Lithium ion batteries provide nearly double the brightness compared to an alkaline/NiMH AA battery, but most people don't have these batteries or chargers for them in their homes. By combining this all in one, you can easily get your friends involved with better flashlights for just around a low price point.

Specs
LED: Cree XP-G3
5350-5700K temperature range
Weight: 1.48oz
User interface
This light uses a side switch rather than a tail switch, which keeps it to a compact 3.5 inches long. The interface is dead simple:  Click to turn it on where it starts in low, and it cycles between 3 modes.  A strobe is accessible via a double click from both on and off.  To turn it off, press and hold the button.  Some people don't like the hold to press to turn it off, but I don't mind it at all, and the time to off is quite quick.  I also appreciate that the strobe was not incuded in the mode rotation.
Mode spacing
This light runs in 2 variants:
AA: 5 lumen, 70 lumen, 240 lumen
14500: 13 lumen, 100 lumen, 600 lumen
No runtimes are provided by the manufacturer, but we can expect that they would be in line with most AA/Cree LED models.  I personally typically like to see a lower medium mode (30-50 lumens) on AA lights in order to preserve runtime.  If you're using a 14500 the 13 lumen mode may be a good compromise here.
LED beam profile
The Cree XP-G3 is the newest of Cree's small die line, and is one of the most efficient LED's out at lower currents.  If you are looking for the most lumens for your battery life, the XP-G3 beats the older XP-G2, XM-L2, and even XP-L series below 1A of current.
The color profile, however is a bluish-purple tint in the 5350-5700k range.  Tint is a personal preference, so I leave it to the reader to decide if you would rather have the brighter, blu-ish tint of the XP-G3, or the dimmer but more neutral and consistent XP-G2.  The hotspot on this LED package is moderate, and works well for a general "around-the-yard" type of handheld flashlight.  For close-up work floodier LED's may be more desirable.
TK05 advantages:
Great value considering the bundled 14500 and charger
Compact and lightweight
The Cree XP-G3 is one of the most modern and efficient emitters out for low to moderate power levels. Great for battery life.
TK05 could improve:
Mode spacing is rather far apart and I'd prefer a more moderate medium mode
Press-to-hold to turn off could simply be replaced as off in part of the main cycle since this light doesn't have a fancy interface to start with.  Would also prefer double-click to jump to high rather than a strobe.
Bluish-purple tint may not appeal to some.  Others may love the brightness and efficiency of the XP-G3.
Summary
For a very modest price this flashlight that can hit 600 lumens including a 14500 battery and charger (probably $12 value alone), the Thorfire TK05 offers a lot for the money.  For those who don't obsess over tint color, this would be a great gift package to get people started.