TheBestGear.org is reader supported and uses affiliate links.  Please read our affiliate disclaimer.
The Sofirn C8A is one of the newer C8-style flashlights on the market.  For those not familiar, C8 lights focus on a large reflector to provide maximum throw.
The Sofirn model comes available in three main variants:
The Sofirn C8A (reviewed), which uses the XP-L2 emitter, and gives a great balance of range and total lumens for a beam with a nice spill
The Sofirn C8T, which uses the XP-L HI emitter. Most C8's use the XP-L HI because it gives the most distance, but sacrifices beam width to do so
The Sofirn C8F is a more expensive, floodier, triple emitter, which in my opinion isn't really what this type of light was meant for.
Specifications
XP-L2 LED
1 x 18650 battery
1747 max lumens, range of 200m
IPX-8 water resistant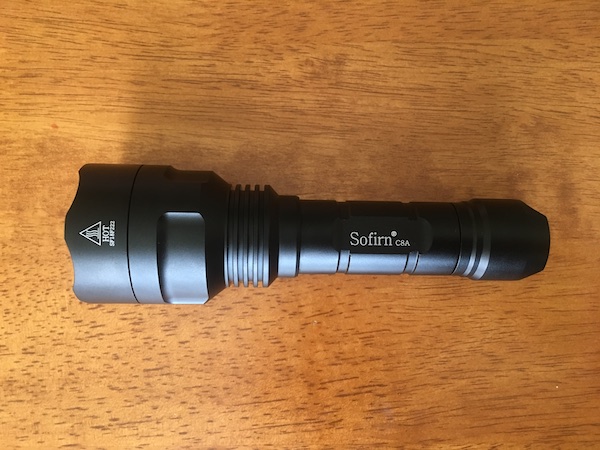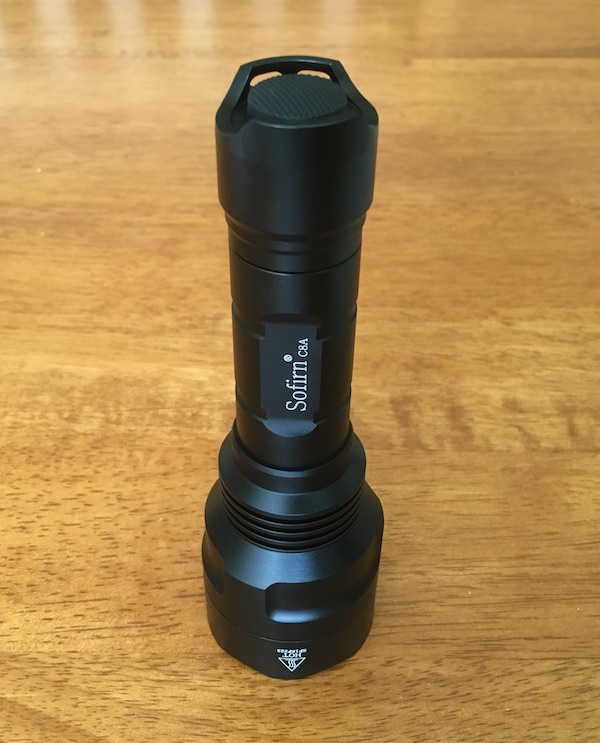 Operating modes:
There are two main groups.  The first is a nice simple low, medium, high and is likely the mode you use the most.  The second group adds a 1 lumen moonlight mode and an SOS strobe.  I very much appreciate that they kept the strobe out of group 1.
Group 1:
Low (90 lm/10.5hrs) – mid (595 lm/1.5hrs) – high (1747 lm/30min); strobe (1050 lm)
Group 2:
Moonlight (1 lm/800hrs) – low(90 lm/10.5hrs) – mid (595 lm/1.5hrs) – high (1747 lm/30min); SOS (1050 lm); strobe (1050 lm)
Basically, this model jumps from what I would consider to be a medium lumen level (90 lumens) way up to 595 and 1747 quickly.  For around the home use these modes are great, but for extended use, it may have been nice to have something in the 200-300 lumen range.  The moonlight mode could be useful, though I'm not sure how often someone using a C8 style light would need a moonlight mode.
Comparison to the C8T:
The C8T claims 500m vs 200m of the C8A, but for most people, I can't imagine that anything you are lighting up beyond 200m would be very visible anyway.
Here is a user that provided comparison videos of an XHP35, XP-L2, and XP-L HI. To me, the C8A had the best combination of beam size using the XP-L2.
If range is the only thing that matters then go with the C8T, but for most users the C8A will be more practical.
Pros:
Inexpensive, long throwing light with a nice spill that most other C8 lights lack
Cree XP-L2 is one of the most modern emitters in 2018 unlike other lights that use older XM-L2 or XP-L emitters.  (The XHP35 and XHP50 are newer, but are less efficient because they require 6-12v and boost drivers).
Waterproof
Very inexpensive
Could be improved:
Would have liked to see a mode in the 200-300 lumen range that could provide longer battery life
Tail buttons are common on C8's, but because of the size of them I think I would prefer a side switch.  The large head and thin body feels a bit odd in the hand, so I may look into 26650 based lights in the future.  This isn't really a knock against the Sofirn though because this is an established form factor.
Summary
For $19 or less, the Sofirn C8A packs an incredible punch with long range throw, and a nice amount of spill. Outside of ergonomics which is a personal preference, this light is a great bang-for-your-buck thrower.