Summary
What exactly is up with this new Ryzen 7735HS chip? I recently did a Beelink SER6 Pro review just a month ago that uses the Ryzen 6800H chip. So, the question, what exactly is new about this model?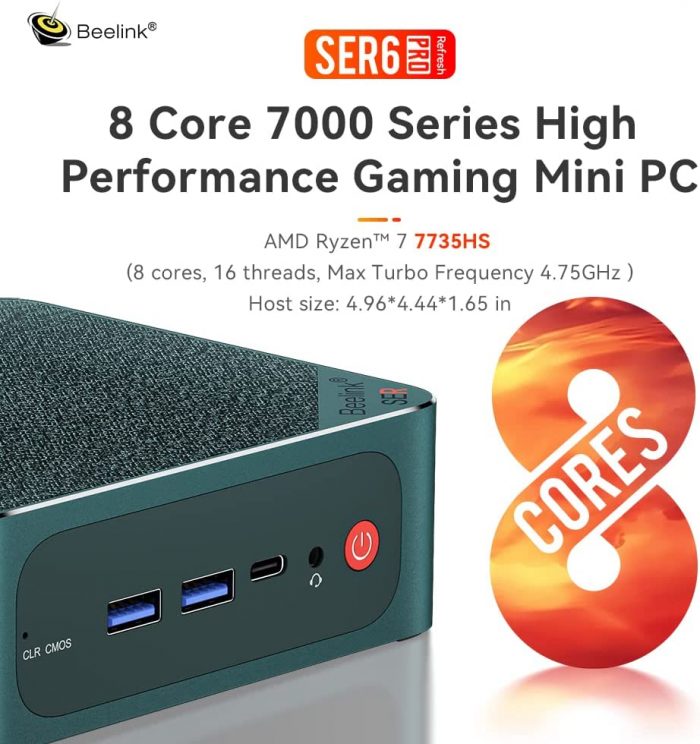 In short, it's basically the same as the 6800H, but it's still the best bang-for-the-buck miniPC to buy today.
To understand what's going on with this new model number, you need to understand how AMD is labeling their new 7000 series cpus. Some 7xxx cpu's are actually brand new to 2023, and on new smaller 4-5nm lithographies and with better igpus. However, others are simply re-branded 5th or 6th gen cpus that have essentially been relabeled to a 7000 series.
This is similar to when AMD introduced the barcelo line (5675u cpu in 2022) that was basically 99% the same at the 5625u cpu from 2021. I don't like how AMD handles this numbering scheme since it can mislead consumers on how new of a cpu they are getting.
AMD's new 7000 mobile series fall into these main categories:
CPU series
Zen series
Notes
7030 series
Zen3
7nm, Vega graphics. 8/16 cores max.
These are basically the same as the 5800H series
7035 series
(this 7735HS for example)
Zen3+
6nm, RDNA2 graphics (2x bump from Vega), 8/16 cores max.
These are basically the same as the 6800H series from 2022 with a 0.05ghz burst speed bump. (+1%)
7040 series
(7840HS, 7940HS, etc)
Zen4
4nm, RDNA3 graphics (expected +30% bump from RDNA2), 8/16 cores max.
These will be the best new mobile cpus for gaming with a powerful new 780M igpu.

Not yet available though, and the 30% bump isn't nearly as large as the big 100% bump as vega->rdna2 was.
7045 series
(7845HX, 7945HX, etc)
Zen4
5nm, RDNA 2 graphics, but 16/32 cores max. Essentially here AMD is providing double the cores, but keeping the old slower graphics to fit in the thermal window. These machines would be great for video rendering, code compilation, and other multi-core processes. Alternatively, they could be paired with a discrete gpu for the most power available.

Not yet available though!
The 7735HS is still my favorite mobile chip available today for the money.
Specs
CPU
Ryzen 7735HS | 8-cores, 16-threads. 3.2/4.75ghz boost.
iGPU
680M, 2.0/2.2ghz boost
RAM
DDR5 4800
SSD
500gb Micron 2400 (SSD lottery)
Ethernet
Intel 2.5GbE
Wi-fi
Intel AX200 Wi-fi 6ac
Drives
(1) NVME PCIE 4.0 slot, (1) SATA slot
Ports
(2) HDMI, (3) USB 3, (1) USB 2.0, (1) USB-4 PD port*
*Front USB-4 port now supports USB-C PD input.
Boost frequency increased to 4.75ghz from 4.7ghz. USB-C 4 port now supports power input.
Comparison
I did want to show a few comparison benchmarks though so you could see that the 7735HS is basically the same as the 6800H.
NOTE: These Beelink machines come with a variety of different SSDs and memory brands. My first 6800H machine I lucked out with a TLC variant of the Kingston NV2, while this 7735HS model arrived with a slower Micron 2400 SSD with only QLC NAND.
Benchmark
SER 6 Pro 6800H
SER 6 Pro 7735HS
Geekbench 5

single: 1,563,
multi: 9,293

single: 1,579 (+1%),
multi: 9,410 (+1.2%).
Cinebench R23
single: 1,511,
multi: 11,344
single: 1,536 (+1.6%),
multi: 11,381 (same)
Basically the same score.

Jetstream
255
257
Speedometer
273
266
3DMark: Timespy
6800H = 2,739

7735HS = 2,706 (-1%). Just a bit of variance here.
Crystal Disk
*** SSD lottery so not an equal comparison
Sequential read/write speeds:

Kingston NV2 = 3,600 / 2,400ish

Sequential read/write speeds:

Micron 2400 = 4,273 / 1,813

The QLC NAND on the Micron limits sustained write speeds after a couple of minutes.
These machines are basically identical as expected minus the SSD variance
One interesting addition: USB power input
One interesting update is that Beelink has allowed for USB-C PD power for this device instead of the typical AC adapter. While this can be an advantage if you want to use a smaller/lighter power supply, the fact that the USB-C port is on the front of the device means that you may have an unsightly cable dangling in front. Maybe not a major issue if your machine is VESA mounted or under a desk, but can be unsightly if you're using this as an HTPC machine or on top of your desk.
Benchmark notes
Overall, these 2 machines look basically equivalent when it comes to CPU/iGPU performance, because they are pretty much exactly the same. Just take a look at the AMD specs – the only difference is 0.05ghz higher boost clock on the 7735HS. The 7735HS also claims a more dynamic 35w-54w TDP vs 45W of the 6800H but it's unclear on how the thermal management differs.
Across straightforward cpu tests (Geekbench, Jetstream, Speedometer) you can see there is really no statistical difference in the cpus. In other tests they are all within 1%.
With Beelink, the higher end devices like the GTR6 will guarantee certain components like the Kingston KC3000 SSD and Kingston RAM, but for more affordable models like the SER6 Pro it's more of a lottery. You could end up with an NV2 with TLC or QLC NAND, or something like this Micron 2400 NVME drive with QLC NAND.
Benchmarks Detailed
Screenshots of actual benchmarks taken below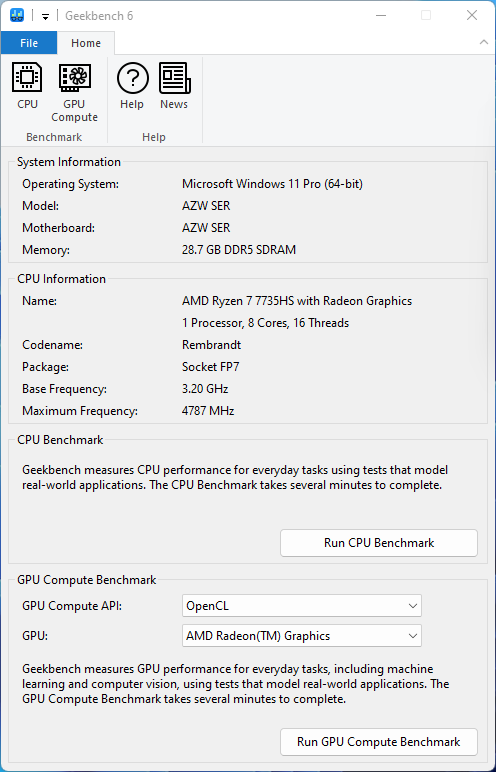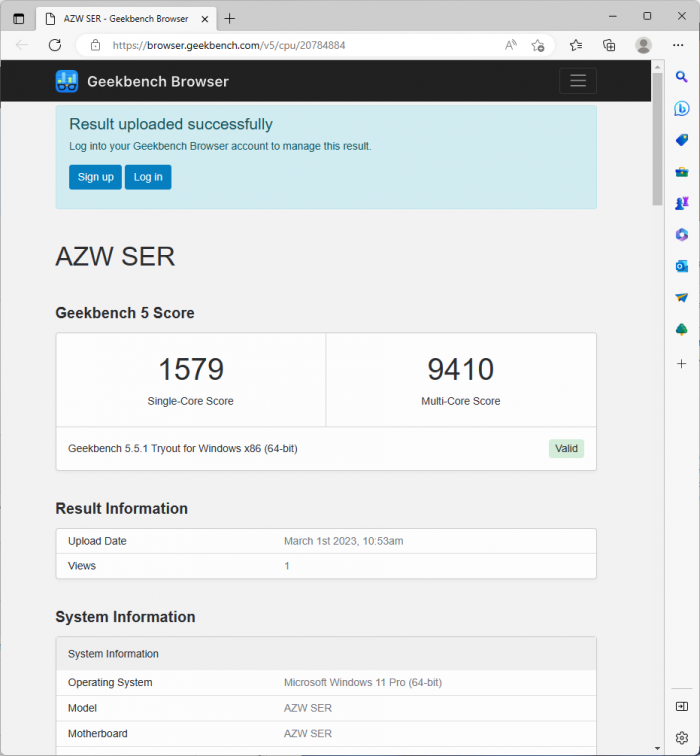 Geekbench 5, roughly +1% compared to 6800H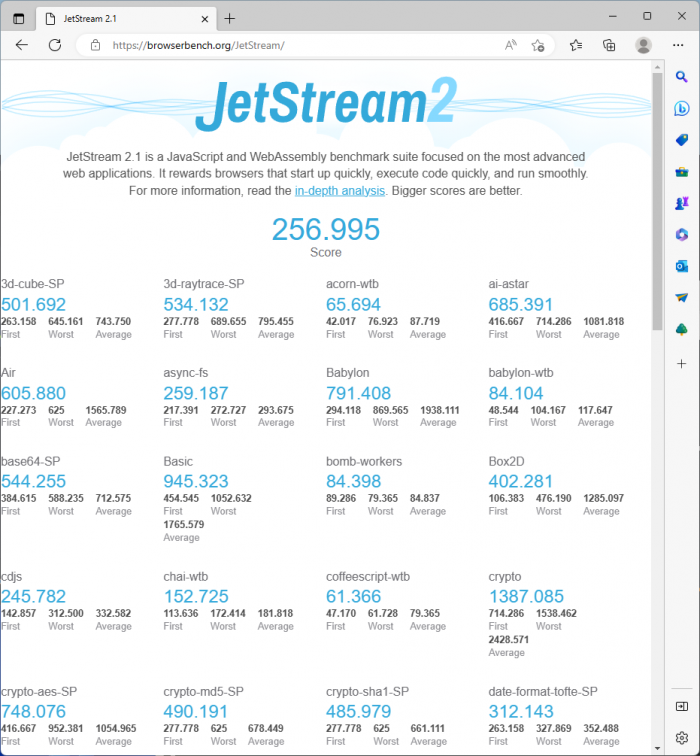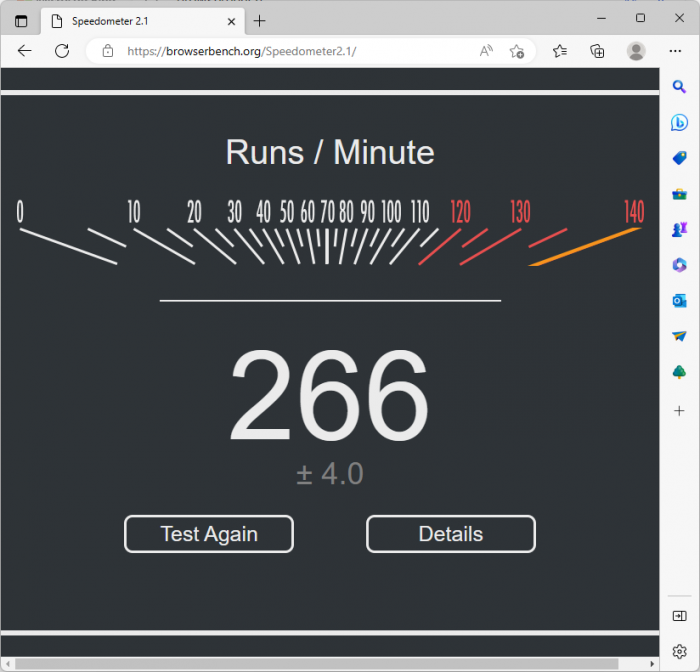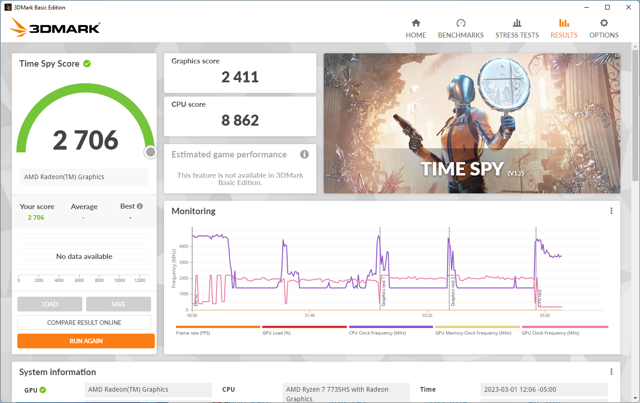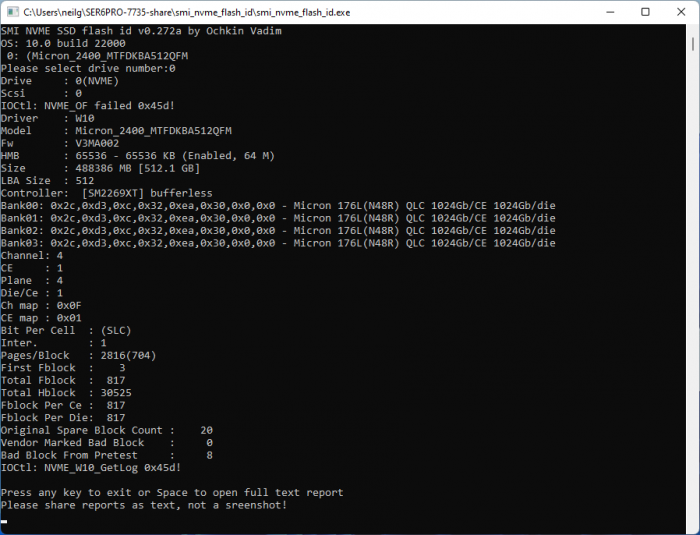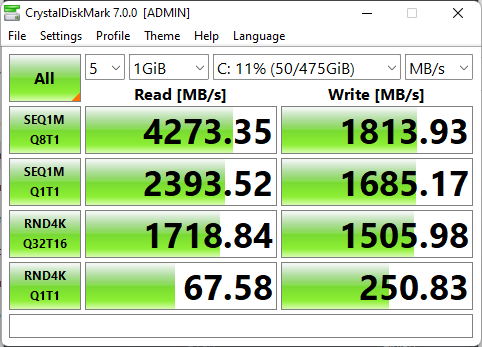 Summary
Overall, while this model is not much of a change from the original SER6 Pro 6800H model, it still offers tremendous value, and is my recommended miniPC right now as of roughly March 2023 given the price point. For under $600 fully loaded with 32gb of RAM and a 500gb SSD, it's tough to beat the price point.
Other miniPCs to me are just too expensive right now (6900HX variants running nearly $900), or you only save $100 and drop down to the older Ryzen 5800H type series. It's not worth going back to the 5xxx series because you lose DDR5, PCIE 4.0, RDNA2 vs Vega (a big one), and USB4. The 5xxx series would make sense when prices drop a bit more, say sub $400, if you aren't gaming and just need an inexpensive machine for office/web browsing work.
SER60 Pro 7735HS Likes:
IMO still best bang-for-the-buck around
Relatively quiet model. Definitely quieter than GTR6, especially at idle *** be sure to upgrade to the 1.15 firmware for quietest performance! Considerably better than 1.08 on the 6800H.
Small form factor
Modern standards: DDR5, PCIE 4.0, USB4
Could be improved:
Wi-fi 6 vs wi-fi 6E (I use ethernet so not a huge deal)
No barebones model offered + SSD lottery means if you are picky you can be stuck with a slower/smaller SSD
Would be nice to have the USB4 PD power port on the back of the machine (or 2 USB4 ports, one standard in front, one PD powered in rear)
Bios is totally locked. While I don't usually mess around in here, some may want overclocking abilities, or the ability to allocate more or less VRAM to the igpu. UPDATE: 1.15 firmware now allows for changing TDP (35w vs 45w) and VRAM amounts.
2.5″ SATA SSD slot continues to block the cooling fan
You can buy the Beelink SER6 Pro 7735HS on Amazon today. With coupons applied these machines offer a lot of value. This is the machine I'm personally using right now as my own HTPC/file server/light emulation machine.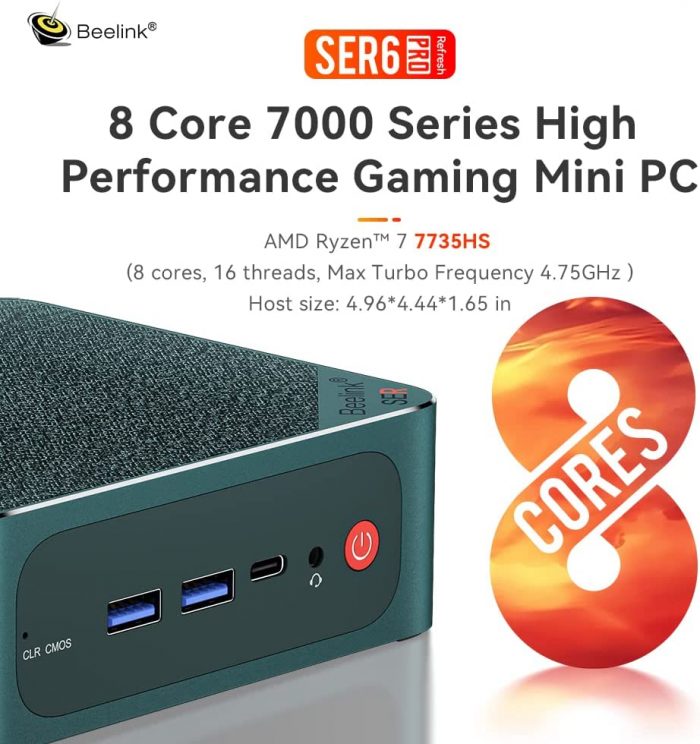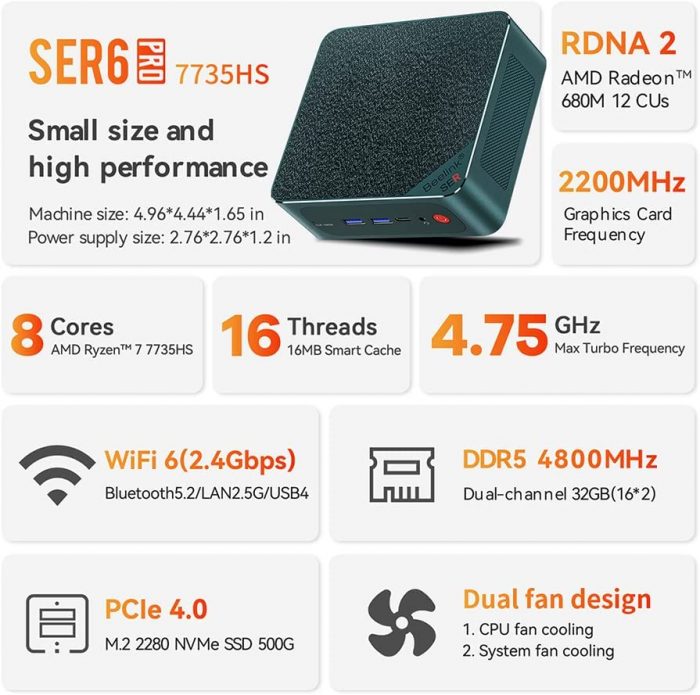 I consider this machine as one of the best miniPCs in 2023 in the tier 2 category (good gpu, but not a discrete gpu)