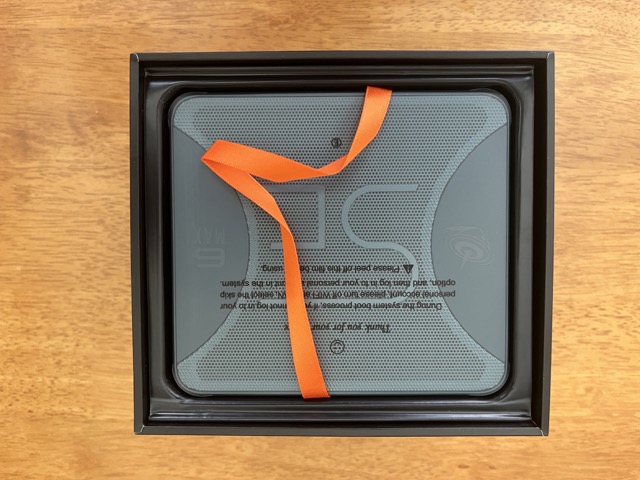 Summary
Beelink just recently released an update to the SER6 Pro 6800H / 7735HS that was released between December 2022 to spring of 2023.
Currently, the 7735HS cpu is in my opinion the "sweet spot" for miniPC cpus because it has great cpu performance, a usable 680M igpu, and modern peripheral support for things like DDR5, PCIE 4.0, 2.5Gbps ethernet, and AV1 hardware decoding. There are newer faster cpus like the 7840HS and 7940HS that provide about 20% better igpu performance, but units with them cost hundreds of dollars more.
What's new with the SER6 MAX? While it's the same cpu as the Pro model, Beelink has updated their line with an improved chassis and cooling:
New vapor chamber style cooling to keep these units much cooler
Higher TDP to allow for a little more performance if you want to push it
Magnetic charging cable
New 2nd NVME slot on case instead of 2.5″ SATA case (yes!)
While most people are interested in fancy new features and more performance, I like that Beelink is focused on improving cooling which is one of the most important aspects of a miniPC.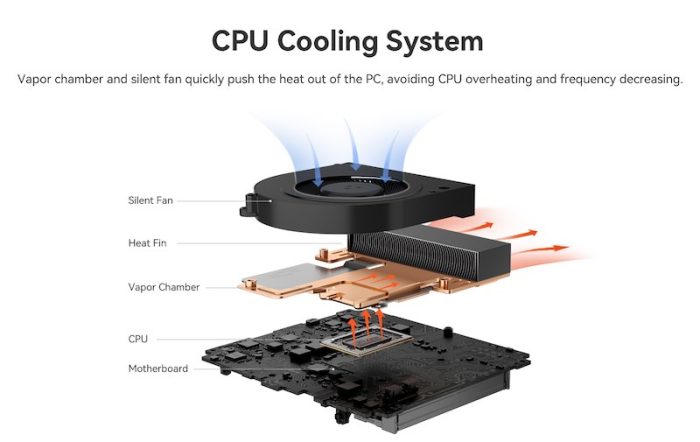 Specs
| | |
| --- | --- |
| CPU | AMD 7735HS, up to 65w TDP |
| iGPU | 680M |
| RAM | 32GB DDR 4800 |
| SSD | 1TB Crucial P3 Plus |
| Networking | 1 x 2.5Gbe ethernet, 1 x Wi-fi 6 (not 6e) |
| Ports | Front: (1) USB-C, (1) USB-A, (1) 3.5mm audio; Back: Magnetic charging, (2) USB-C, (1) Display port, (1) HDMI port, (2) USB-A. 1 NVME slot on motherboard, 1 on case panel. |
Here you can see that the specs of the SER6 MAX are similar to the SER6 PRO. The main differences are that the cpu now supports up to 65w TDP, the default SSD is now 1TB instead of 500gb, and the primary power adapter now uses the magnetic charging cable instead of a barrel adapter like in past machines.
This machine will perform similarly to the 6 pro but with the ability to crank up the TDP for a bit more performance, and overall better cooling. The new 2nd NVME slot is very welcome since NVME pricing is now as cheap as the older SATA 2.5″ SSD pricing.
Benchmarks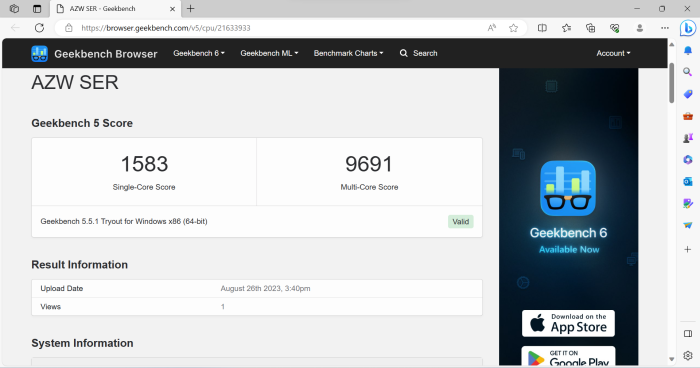 Geekbench 5 results for those that want to compare against older CPU benchmarks.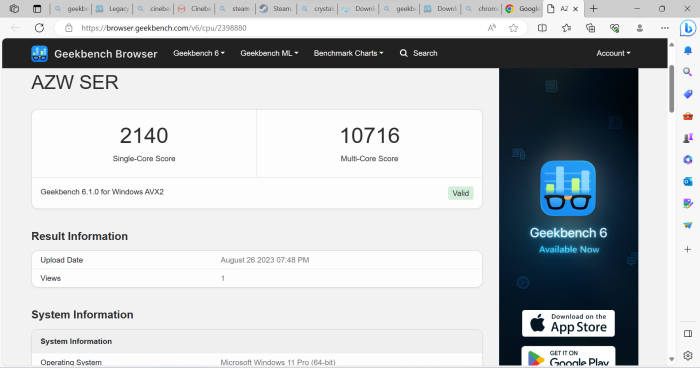 Geekbench 6: very respectable numbers here for a $500-something miniPC. The 7735HS is one of the best bang for the buck CPUs out right now if you are OK with modest igpu performance.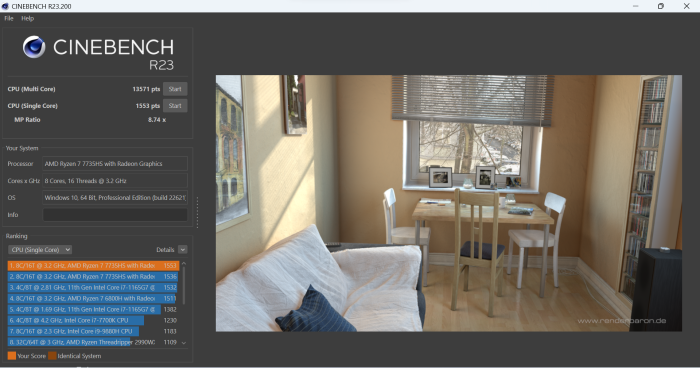 Cinebench results: Single: 1,553; Multi: 13,571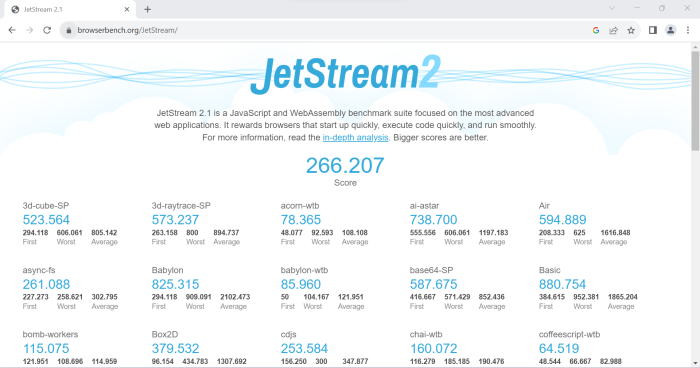 Jetstream: Incredibly snappy performance score of 266. I've stated this before: Javascript and web performance is a key benchmark on machines these days due to so many JS heavy websites and apps that run off of Electron that uses JS (Slack, Whatsapp, and much more)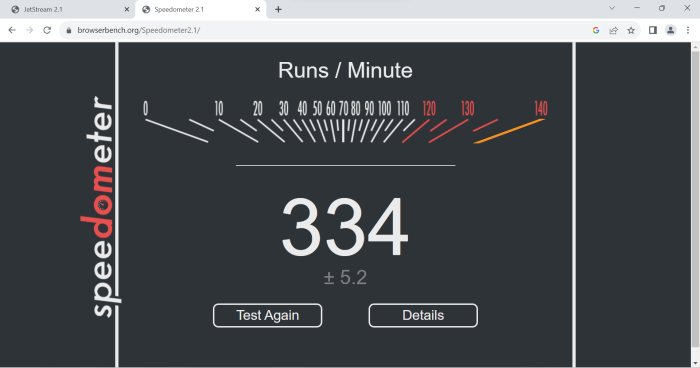 Screaming fast 334 results. Apple M1 machines are in the low 200s for this!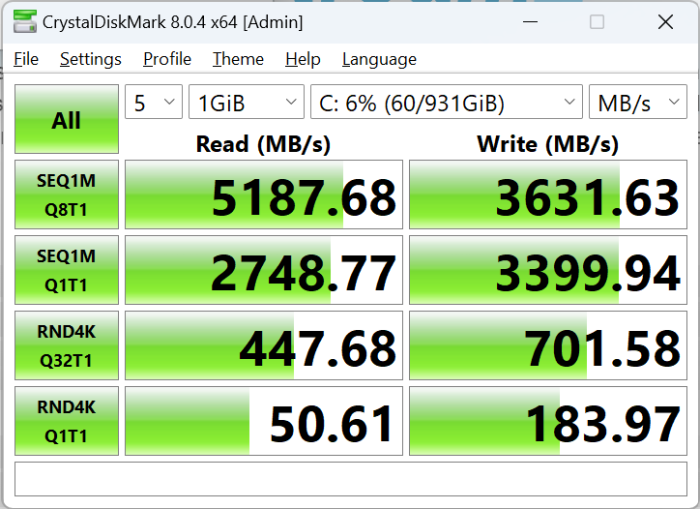 The Crucial P3 Plus SSD is a modest budget SSD, but still produces good 5GB/s read speeds for a PCIE 4.0 NVME drive. Where budget drives get his is more on long sustained writes longer than 1min.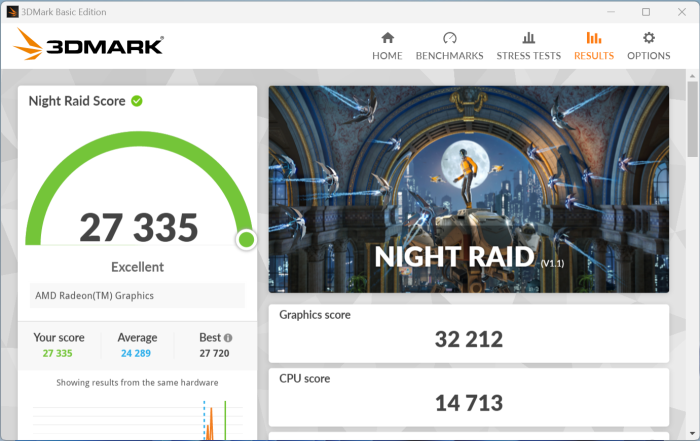 Night Raid benchmarks are mostly intended to show how modest igpus can perform with easier or older games. You can see here the 7735HS chip shows 'excellent' for these use cases.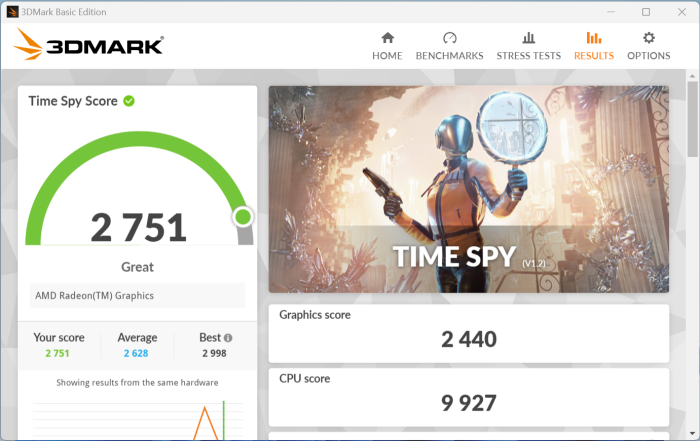 With TimeSpy, the 7735HS with the 680M chip starts to struggle. At 1080p we mostly saw 15-20fps type ranges which isn't that playable. This igpu is intended more for emulation, older games, and so on. The price reflects it though – the 7840HS/7940HS with the 780m is MUCH more expensive.
Strengths
Great cpu performance for the money. Currently this model is just a bit over $500 at Amazon with a coupon and offers great single & multi-threaded performance in an efficient package
New cooling system is a big step up from past models
The extra NVME slot is very welcome. 2.5″ SATA SSDs no longer make sense with current NVME pricing. NVME drives can be 7-14x faster.
1TB SSD upgrade as base vs. 500gb on the pro model helps offset a little bit of the cost upgrade
Easy to open & upgrade. I like the simply phillips screws on the bottom of the machine to open it up. Minisforum and others require removing rubber feet.
I love the size of the SER models. The GTR models are the strongest models from Beelink, but they are more expensive, bigger and bulkier.
Beelink quality seems to be consistently better than Minisforum based on anecdotal evidence of what I've seen on forums and on reddit. Minisforum has regularly run into thermal throttling or shut-down issues that Beelink doesn't seem to run into.
Could be improved
While the magnetic charging cable works well, I'd prefer to not use a proprietary charging port. To mitigate this though Beelink did tell me they did extensive testing on the cable, and you can fall back to USB-C PD charging, though at a slightly lower rate
Would be nice to get a barebones option if you want to run your own SSD/ram options
Some feet to raise the machine up a bit might help with a bottom fan & opening like the GTR machines
Wrap-up
The Beelink SER6 series is currently my favorite affordable miniPC for the money. It's great for web browsing, office tasks, and light gameplay at 720p or 1080p with emulators or slightly older non-AAA games.
If you need better gaming performance you can move up to the SER7/GTR7 series, but you'll spend nearly $300 more at which point it probably makes sense to just build a mini-ITX machine unless you really need the size.
Pickup the Beelink SER6 MAX now at Amazon. Be sure to apply the good coupons that Beelink runs regularly on Amazon!