TheBestGear.org is reader supported and uses affiliate links.  Please read our affiliate disclaimer.
The Xtar PB2 is one of the newest powerbanks on the market that support replaceable 18650 batteries. The competition is slim in this niche, and the PB2 is a welcome new entry.
In our opinion, 2-battery powerbanks hit the sweet spot for travel. Enough juice to recharge your smartphone several times, but not so heavy to weight down your pack like a 10,000mAh model.
The Xtar PB2 has a clever magnetic design which makes swapping batteries a breeze. Other models like the Tomo M2 have a frustrating sliding door.
Opening the box and first impressions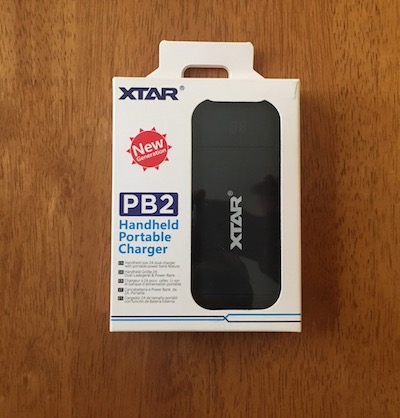 A nice simple, small package with the Xtar PB2
The Xtar PB2 is a simple package, it comes with the enclosure and a microUSB charging cable (but no wall outlet charger).
Taking it out of the box, my first impression is at just how light this thing is.  As an ultralight backpacker this is a dream come true coming in only around 55g.  When I did the math and compared the PB2 plus 2 3500mAh 18650 batteries, the weight per capacity was within 2% of the totally enclosed Anker models.  That is impressive.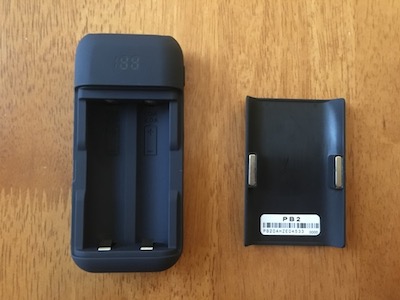 The enclosure opens with just a small tab on one side.  Before receiving this model I was hesitant on the magnetic opening, but the crisp snap and strong magnets make it wonderful to open and close without worrying about breaking latches.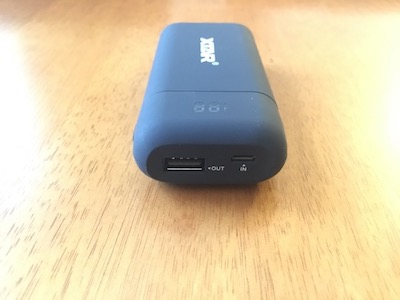 The ports are simple – a USB-A style output port, and a microUSB input port.  The device can charge at a total of 2 amps, so make sure to use a wall outlet that can output that much.  I used an iPad charger for my testing.  One downside here is that the microUSB port is on the older side and I would have liked to see the new USB-C PD standard here.  Fortunately, the microUSB standard is actually pretty good with 10,000 estimated insertions before failure, unlike the old miniUSB standard that was mechanically flawed.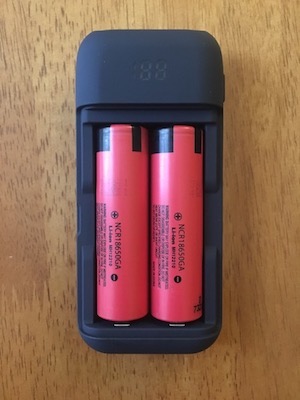 Two Sanyo NCR18650GA flat-top batteries are loaded into the device snugly.  The fit felt precise, but I do wish there was some kind of easier ejection method to get the batteries out. As someone with almost no fingernails, it's difficult to pull them down from the top.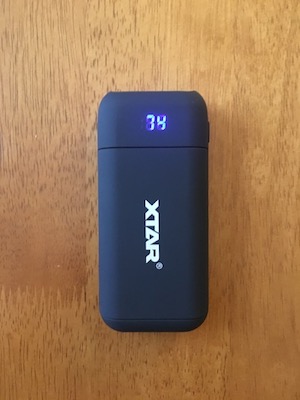 Fired up and and capacity shown.  A small side button lights up the device.  While it's nice to get a numerical value instead of 5 bars, for some reason the blue segmented LCD display here bled badly between segments.  You can make out the text, but it struck me as a flaw.
What makes the PB2 stand out among the competition?
Charging rate: The PB2 can charge at a rate of 1A x 2 batteries, which means a pair of 18650's can charge in around 3 hours, much faster than slower charges that take twice as long. Most other models limit input to 1A total, or 0.5A per battery. There's nothing worse than being on the road with a limited time to recharge and ending up with a 50% charged powerbank.
Full 2.1A output: Tablets require high amperage to charge, and many modern smartphones can now take advantage of higher current to charge more quickly.
Low voltage protection: Lithium ion batteries, while being the most advanced consumer battery technology we have today, have a flaw that they can fail when voltage drops too low. The PB2 protects against this.
Xtar quality: Xtar has historically made very high quality chargers (such as the VP and VC series), and it is refreshing to have access to a powerbank made by someone like this. Most other options on the market come from small name manufacturers like Tomo or Soshine.
Weight:  This thing is light. As mentioned, it's so light that it is competitive with fully enclosed models.
What could be improved?
We wish Xtar would have used the new USB-C PD power standard for input. The old microUSB port is prone to failure. Loose or broken microUSB ports are probably familiar to many readers here who have had them fail on smartphones or other devices. Additionally, USB-C PD could have allowed for even higher charging rates (2A x 2, for example).
I would have preferred a more minimal charge indication screen. The blue light can glow too brightly in a dark room, and I would have been fine with Xtar saving more weight on the device with simple bar/dot indicators. As noted the LCD display has some odd bleed in the segments.
According to HKJ's review, this charger is a little noisy on the output, roughly 4x that of the Tomo M2.  However, it is still within a reasonable range for a portable charger.
The competition
As stated, there's not much competition in this space. The closest 2-port contenders are the Tomo M2, Nitecore F2, and Soshine E4S. Unfortunately, they all come with quality concerns. The Tomo's microUSB port failed on me within a few uses. The F2 had an annoying pulsing whine while charging, and I didn't like the fact that the battery compartments weren't enclosed. I haven't tried the Soshine E4 series yet, but other reviews of it showed mediocre charging performance.
Conclusion
In my opinion, the Xtar PB2 is the best power bank on the market that offers replaceable batteries. The charging rate, magnetic door, and Xtar quality make this a great option that everyone should have in their bag.
For those that want a flexible and modular travel system (especially those who use 18650 headlamps), I can't recommend this highly enough, and will be updating this post as I use it on my next few trips.
Buy an Xtar PB2 from Amazon now
Other recommended products:
For travelers and backpackers out there, I recommend these two 18650 headlamps to pair with it:
1. Skilhunt H03 – the lightest 18650 headlamp out there with over 1000 lumens of power.
2. The Wowtac A2S – If you need faster shipping from amazon. Also slightly cheaper because it includes an 18650 battery in the price.
What about batteries? The highest capacity 18650 batteries are 3500mAh now and your best options in order are:
1. Sanyo NCR18650GA – 3500mAh, 10A draw
2. Samsung INR18650-35E – 3500mAh, 8A draw, lasts slightly lower at low currents
3. LG MJ1 – Similar to the above with less performance, but worth looking at if on sale