Deprecated
: strstr(): Passing null to parameter #1 ($haystack) of type string is deprecated in
/home/thebestgear/public_html/wp-content/plugins/amazonsimpleadmin/AsaCustomerReviews.php
on line
117
Deprecated
: strstr(): Passing null to parameter #1 ($haystack) of type string is deprecated in
/home/thebestgear/public_html/wp-content/plugins/amazonsimpleadmin/AsaCustomerReviews.php
on line
117
Summary
Over the last five years, dive computers have evolved dramatically compared to the past. For over a decade, dive computers remained mostly the same. Simple LCD screens, proprietary algorithms, and some models never receiving updates. For example, the Oceanic Geo 2.0 just being phased out now, but mostly rebranded as an Aqualung, has been out since around 2009, over 11 years ago.
Advanced, color computers started in the industry as $1000+ high end models (Shearwater, higher end Scubapro, etc), but today, some interesting new players have entered the market.
Additionally, some models are now available that offer the Buhlmann 16 compartment algorithm, which wasn't offered in more affordable models before. (Most used algorithms like Suunto's RGBM or Pelagic Z+)
Below are a few models under $500 that I find compelling. My list is based on price, algorithm, screen, and customizability.
If you are looking for a more budget dive computer, please see our article on the best dive computers under $300 in 2020.
1. Atmos Mission One
This new dive computer, based out of Taiwan, offers a staggering amount of features and value for the price range it sits in.
At around $400-$500 USD, what sets this computer apart from the competition? Nearly everything.
First and foremost, at this price range, I don't know of a screen that comes anywhere close to this model. The MISSIONONE offers a high contrast, color 1.2″ screen with a resolution of 240×240 pixels. While not quite as impressive as the Shearwater Teric's 1.39″ 400×400 screen, this computer comes in at nearly 1/3 the cost!
The other standout features included on this dive computer are a digital compass and dive planning.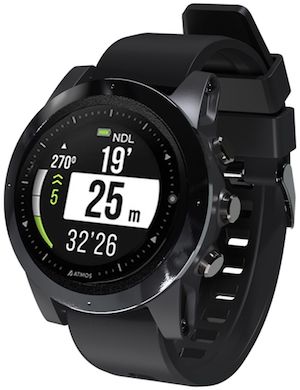 Standard features
Like other dive computer in its class, the MissionOne includes support for Nitrox, audible and visual alarms, and additional freediving and gauge modes.
Algorithm information
(Advanced information below: recreational divers, just know that it uses one of the best algorithms out there, and is fully customizable. You can't beat that.)
This model also runs the Buhlmann ZHL-16c algorithm, which is considered by many to be the best to run because it is understandable, not proprietary, and well tested. What really sets the MissionOne apart though, is that the conservation factor can be completely customized using gradient factors.
For recreational divers, this means you can adjust your GF hi value to something like 70 for conservative dives, or as high as 95 if you want to run aggressive dive profiles. (95 would be similar to the DSAT algorithm). Because this computer offers complete customization, it also means that technical divers can set their GF lo to a higher value like 50-60, adjusting their first decompression stop up shallower. Most recreational dive computers today that hard code these values in and the GF lo in the 30 range results in "deep stops"
PROS
Color, high contrast screen which is unheard of in this price range
Buhlmann ZHL-16c algorithm which is hard to find
Feature rich with compass, dive planning, and more
Small profile – watch style rather than puck style
CONS
No air integration available, though what computer for $400ish does?
Like other wrist watch sized computers, the battery needs to be factory serviced
Not many distributors in the USA yet though it is available online.
Company is new to the dive industry
The Atmos MissionOne can be purchased ____________
2. Aqualung i200c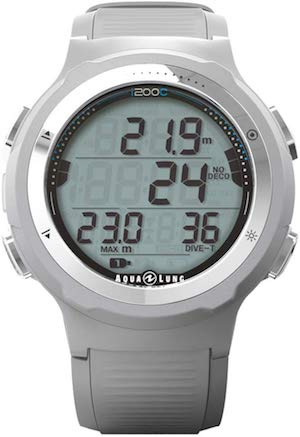 Over the last few years, Aqua Lung has offered some competitive dive computers in the low to mid range. Most of these models are based off of the old Oceanic Geo and Veo models, but have been rebranded since Oceanic was aquired.
The Aqualung i200C to me hits the sweet spot, being similar to the old Oceanic Geo 2.0 but with some new features?
What's new? The "C" in the model indicates that, compared to their old i200 model, this computer has bluetooth connectivity included. Because of that, there is no USB cable required. Some companies charge as much as $90 for proprietary cables just to get the data off of your computer.
While this model doesn't offer anything crazy compared to the competition, it is a compact model with all of the basic features you'd need at around $370 USD.
PROS
Based on the Oceanic Geo 2.0, which has a long proven history
$40 less than the Atmos MissionOne
Dual gas nitrox mode up to 100% oxygen
Included bluetooth connectivity
Z+ algorithm is respectable though conservative
CONS
Basic LCD screen – at $369 technology like this is feeling dated. Many models in the $150 range have a similar screen.
Battery needs to be services by factory
No air integration
The previous i200 and Oceanic Geo 2.0 models without bluetooth were as cheap as $200-$270 on closeout, so $369 feels like a bit much here. The Aqua Lung i100 is also $199, though only has one physical button and offers no bluetooth.
The Aqua Lung i200c can be purchased at Amazon or other online retailers. Price will vary with market conditions, but will fall well under $500, and typically under $400.
3. Mares Quad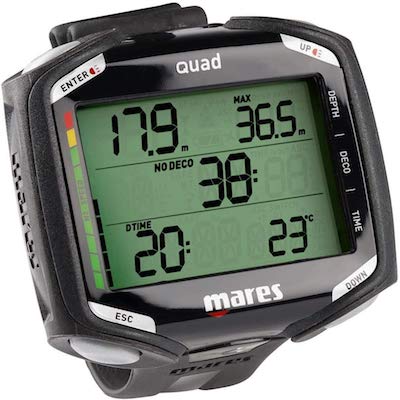 Next up is the Mares Quad. We chose this model, because coming in a similar price range, this computer has a strong advantage in usability.
Most dive computers focus on lots of features. The Mares Quad doesn't lack any of these, but also focuses on a large screen, and four physical buttons. Yes, four. Unlike other budget computers with only one or two physical buttons that are difficult to navigate, this dive computer makes cruising through menus easy.
PROS
Established, trusted brand
Affordable
Large screen
Four physical buttons
Air, nitrox, dive modes
CONS
Screen is still only basic LCD
No air integration support
RBGM algorithm feels a bit outdated
You can buy the Mares Quad on Amazon here. Price will vary on market conditions, but will be well under the $500 budget that this article is focusing on.