Deprecated
: strstr(): Passing null to parameter #1 ($haystack) of type string is deprecated in
/home/thebestgear/public_html/wp-content/plugins/amazonsimpleadmin/AsaCustomerReviews.php
on line
117
Deprecated
: strstr(): Passing null to parameter #1 ($haystack) of type string is deprecated in
/home/thebestgear/public_html/wp-content/plugins/amazonsimpleadmin/AsaCustomerReviews.php
on line
117
When it comes to advanced dive computers, there are a few clear winners in the marketplace that are popular with technical divers.
What separates technical dive computers from standard recreational computers? There are a number of factors, but the mains differences tend to be:
Support for up to 3 different gases (oxygen, nitrogen, helium)
Dive planning
Improved screens
Air integration
Rebreather support
One other main consideration is availability in your country of residence. Shearwater, for example is based out of the USA, but the competitive Ratio dive computers aren't readily available here.
And now, the main considerations:
1. Shearwater Perdix AI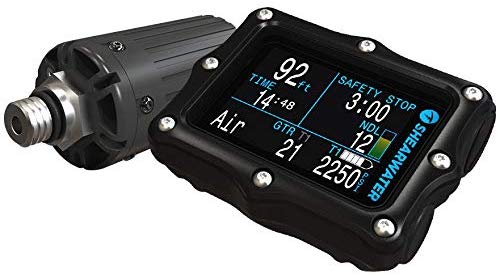 The Perdix AI is the evolution of the old Shearwater Petrel. Compared to their wrist watch style Teric, this model offers the largest screen and a fully user replaceable battery.
The large screen
While not as sleek as the Teric watch, divers with less than perfect vision may appreciate the slightly larger layout and font size on this model. At 2.2″, this is one of the bigger screens out there. The resolution is 320×240 QVGA, more than adequate for displaying your needed metrics.
Battery support… all of them!
Additionally, the ability to hot swap a wide variety of batteries means you can be up and running in any place on earth.
For example, the Perdix supports:
The rest of the features
From dive planning to trimix support, the Perdix AI is pretty much the standard for technical diving that requires decompression stops.
Air integration is optional with an add-on transmitter. One benefit here is that Shearwater uses an industry standard transmitter, so if you have one from your other dive computers it's likely to work. They can also be found used and are quite affordable. In comparison, you'll notice that Ratio brand dive computers are cheaper up front, but their air transmitters are nearly twice the price.
Pros
High contrast, large screen
Leading industry brand for technical diving
User replaceable battery
Trimix support
Compass
If you don't need air integration, the non-AI Perdix model is a couple hundred dollars cheaper. May hurt resale value, though.
Cons
Not as compact as the Teric
Boxy bezel on enclosure is starting to show its age. A redesign would be nice
Transmitter not included, but you can buy them separate and upgrade later
Clearly pricey, but compared to the competition it is well worth it. Technical dive computers from competitors with horrible LCD screens are as much as $700!
2. Shearwater Teric (with Air integration)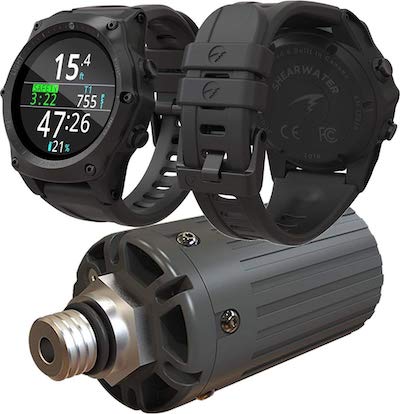 The Shearwater Teric was released just a couple of years ago, fast on the heels of the Garmin Descent that was one of the first high quality scree technical dive computers.
With nearly all of the same functionality of the Perdix, the Teric moves all of this technology into a wrist watch form factor.
Some might be hesitant that a small computer like that could provide enough detail for a technical diver, but the high resolution of the screen and customizability mitigate this.
The screen
Here's what you probably care most about. The Teric has a super high contrast AMOLED 1.39″ screen running 400×400 resolution. OLED technology is known for providing perfect blacks, which means the text displayed on top of it will have the strongest contrast of any dive computer. Compared to the Perdix, this model has roughly twice the number of pixels to make the display sharp.
But what about the size? Is it hard to read because of the 1.39″ vs 2.2″ screen of the Perdix? Most divers find the computers to be comparable, because the Teric uses large fonts that are similar to the Perdix. While less can be shown on the screen overall, you can easily cycle between screens with the physical hardware buttons.
The battery
With a wrist watch style computer, the battery of course won't be as easily replaceable as a larger model. The built-in lithium ion battery though is rated quite well: 30 hours of dive time, or 50 hours in wrist watch mode. For most this is plenty sufficient. Lithium ion batteries in general have recently proven to last many cycles.
Pros
Incredible high contrast AMOLED screen
Industry leading Shearwater technology
Air integration (unlike the Garmin Descent or Atmos MissionONE)
No proprietary cable to transfer data
Cons
Battery not user replaceable
Slightly pricier than the Perdix AI, with no non-AI version available to save money